How Provident Commercial Finance doubled their business in 2021 with the help of HubSpot and Good Team
Working with a HubSpot Agency helps you understand and continue the growth your business is experiencing
Provident Commercial Finance
Industry: Financial Services
Company Size: Small Business (10-25 employees)
Location: Tennessee
Use Case:
Lead Nurturing Marketing Emails
Sales and Marketing Alignment
Sales Pipeline Automation
Hubs Used: Marketing, Sales, and Operations
Question: What are you looking for in a Marketing Agency
Provident's Answer:
Someone that would educate on what marketing looks like and can explain the difference between marketing and sales.
Spends time learning about us and tailor the marketing plan to meet our needs rather than trying to fit us into a pre-made plan. 
Buyers personas to Lead generation - Good Team saw what we were already doing with HubSpot and helped us take advantage of other aspects of the software. And integrating with PhoneBurner. 
From emails, sales and marketing templates, workflows (things I didn't know existed). It's like having GoodTeam on staff. 
From no digital presence to full blown going after people.
There is a lot of creativity with GoodTeam but also a lot of technical strategy. It's the best of both worlds. 
Question: What value has the partnership brought to the company?
Provident's Answer:
We've gone from:
Learning who we are going after

Learning how we are going to go after them

Creating the message to get them interested

Get rid of the folks that aren't interested

And now we have people we want to talk to… but what do we want to say?
Now GoodTeam built out content and ebooks that were tailored to what our clients wanted to know. 
They really did a deep dive into finding out what our clients wanted. 
Even though this process is really big and complex, you would never know it because of how they broke it down into smaller chunks that were easy to understand. 
Instead of waiting 6 weeks and deciding what to do from there, GoodTeam didn't waste time or money.
They offered weekly meetings or meetings every other week where they tracked the results and made necessary changes on the go. And they made it feel like they were really a part of our company. 
Goodteam listens to us and expands on our ideas. Not a lot of marketing companies actually listen to our ideas. It's easy to expand on our ideas and create easy to understand, personable content. 
Processes were streamlined. Sales are busier. GoodTeam has integrated a 10 point touch system that is automated. The client is constantly being touched.
Question: What growth has your company seen since working with GoodTeam?
Provident's Answer:
Our company has grown exponentially. When our ideal customers get a call from us they are not surprised because they already received 2 to 3 emails from us.
We get to talk to people that are more likely to say yes rather than waste time on cold leads.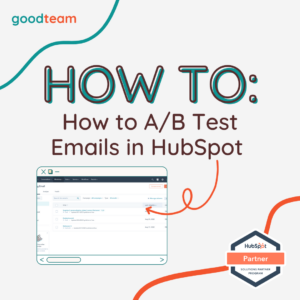 How do you know what emails are doing well? Enter A/B testing. Marketing is all about data. Without it, we are throwing money into a dark closet and hoping we will see some return. Watch this video to learn how to set up A/B Testing for Emails in HubSpot. Go to: 1. Marketing…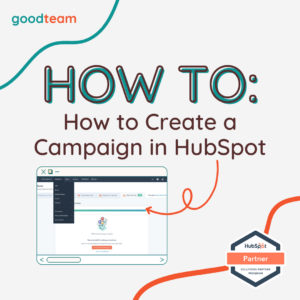 Learn how to Create a Campaign in HubSpot If you need a quick tutorial on how to set up campaigns, this one's for you! Go to: 1. Marketing 2. Campaign 3. Create Campaign 4. Add Assets (attribution reporting tool for non-HubSpot assets) 5. Track Your Campaign with Reporting That's it!…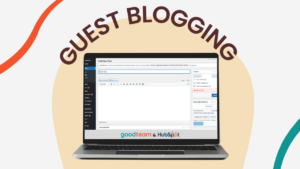 Are you wondering about the effectiveness of guest blogging? You're not alone. Some people will say it's a waste of time, while others will tell you to implement it as an essential part of your marketing efforts. So, is guest blogging worth it? Well, yes and no. As with anything, if you…
Ready to get the most out of