How to Verify Time Zone in HubSpot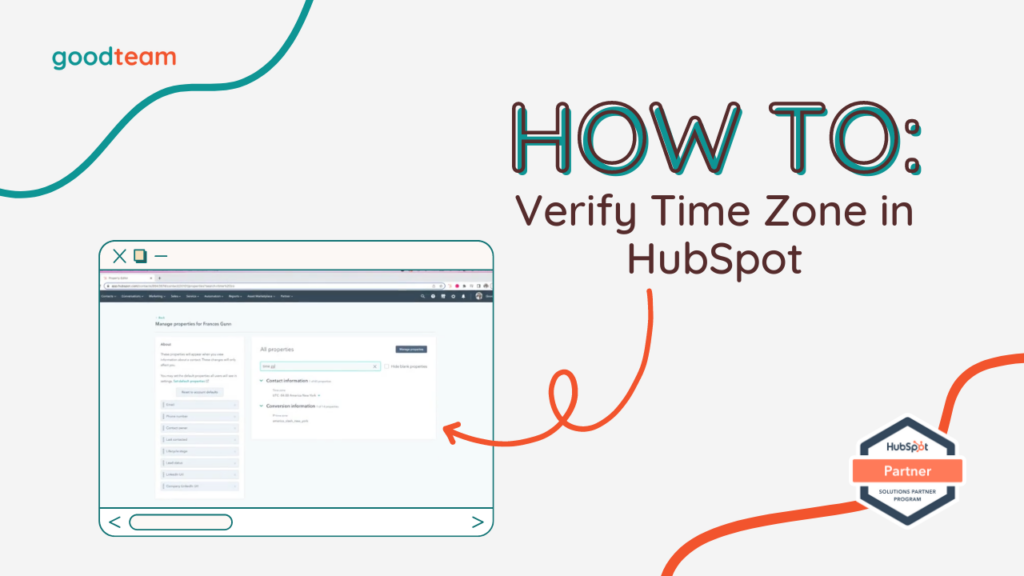 How to Verify Time Zone in HubSpot
If you're like me, HubSpot is your single source of truth so when you're looking for something you probably check there first. This simple tutorial will show you how you can verify a contact's time zone in HubSpot – I use this often when scheduling meetings or want to make sure I send an email within working hours.
However, it's a property so you can use it in dozens of ways through workflows, deals, marketing emails, etc.
Here are the steps to Verify Time Zone in HubSpot:
Navigate to Contact Record

Click View all Properties

Search Timezone
That's it! Now you know how to Verify Time Zone in HubSpot!
What is Good Team?
Good Team is a HubSpot Partner Agency, as a Certified Solutions Partner with HubSpot we are committed to helping companies grow better. We do that in many ways: Management, Projects, Support, or Resources.
Fill out the form below to access our 40-point DIY HubSpot Audit with Videos!
Aren't able to watch how to
Verify Time Zone in HubSpot?
Read the Captions here:
So just email your client
and want to double check and see if I could
figure out what time zone they are in my mind
there in Mountain Time.
But I wanted to
verify, so I wanted to show you how to
check and see if someone is in a specific time zone
if you've emailed them with the HubSpot
integration setup.
So if you're in
the contact record, you're going to go over
to view all properties and then you're going
to search time zone. Very easy and look at that.
This is my contact, but
I'm in Eastern time.
The contact was in
Eastern time, so I'm really glad I checked
because otherwise I would have given them a
bunch of times over two hours later than what I had
imagined for a meeting that I was getting them.
So I check and see someone's
time zone within HubSpot.
Get Your Free DIY 40-Point HubSpot Audit with Videos!