The Complete SEO Checklist [ft. HubSpot]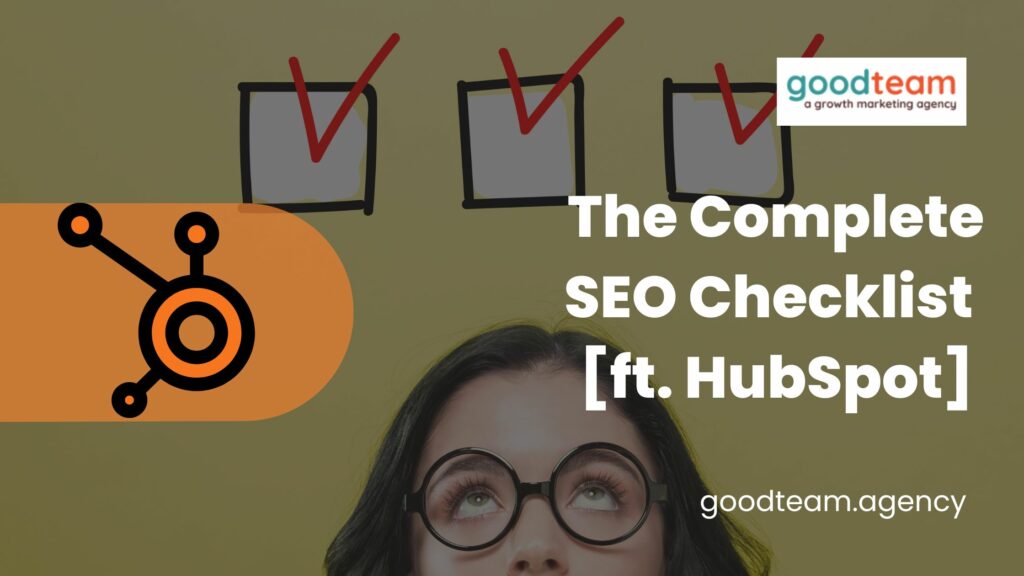 Download The Complete SEO Checklist [ft. HubSpot]
Do you want more free traffic to your website but don't know where to start? Then this complete SEO checklist is for you.
The best part?
If you follow this list, you'll see results no matter your experience level. 
What this checklist will cover:
SEO Basic Tools Checklist

Keyword Research 

On-Page SEO Checklist

Technical SEO Checklist

SEO Content Checklist

Link Building Checklist

SEO HubSpot Checklist

Conclusion
How to Get Started
Hey, I'm Adrienne Huss.
A Google Ads advocate turned SEO enthusiast.
Don't get me wrong, Google Ads still have their place in driving traffic and growing your business. 
But when you're on a budget and want to drive organic traffic.
SEO is everything.
But where to start? 
I don't know about you, but checklists are my jam.
And SEO can be overwhelming.
Especially if this is your first time dabbling in tactics that google doesn't want you to know about (because they want you to spend money on Google Ads).
I hope this checklist helps.
Let's go!

What is SEO?
SEO stands for search engine optimization. 
So, let's say that you're a digital marketing agency.  
And you want to show up on the first page of google when someone types in "keyword research". 
Instead of paying for google ads to get you there, implement these tips- or as many as you can. 
If you're a beginner, just do your best. 
Any changes should help you get closer to the first page and increase your organic traffic. 
SEO Basic Tools Checklist 
Let's look at the basics. These are the tools that you need to rank in Google and track your progress. 
There's a lot to know about these tools, so try not to get overwhelmed learning the ins and outs right now.
Focus on just getting them set up.
1. Google Search Console
Google Search Console is not only free, it's also incredible for tracking your progress. 
You'll use it to:
Track your most popular keywords

Fix errors on your website

Track how people are staying on your site and their user experience

And much more
Basically– If you want to start getting more free traffic, set up google search console.
It's awesome and it's free. 
2. Google Analytics
If you want to know how people find your website and what they do when they get there, Google Analytics is where it's at.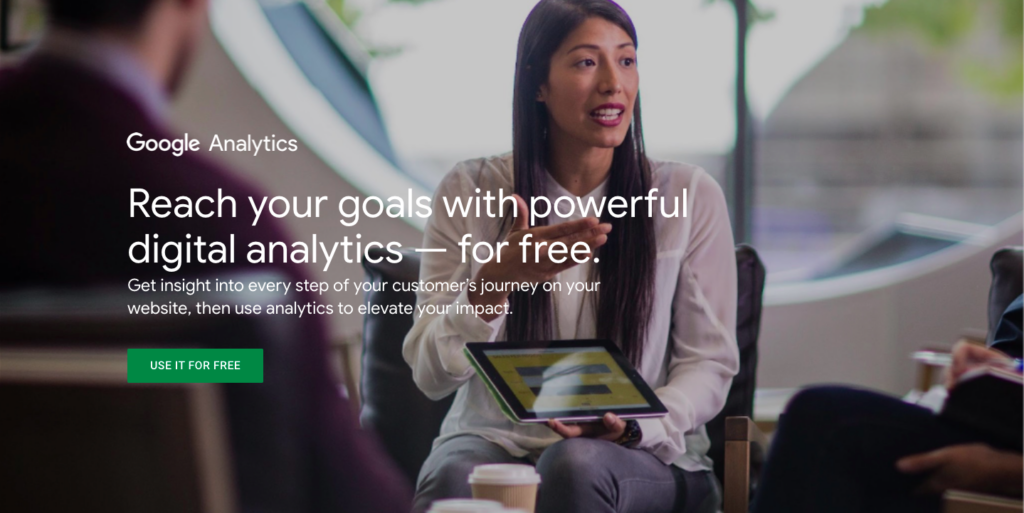 You'll use it to:
Track how many people visit your website

Understand what pages are your most popular

Know where your traffic is coming from

Understand what people are doing when they get to your website through

time on page

,

bounce rate

, and

pageviews

.
Here's how to set up Google Analytics. 
Also, if you Connect Google Analytics with Google Search Console, you can see Google Search Console data within Google Analytics!
3. Install Yoast SEO Plugin (WordPress)
Yoast SEO is an extremely popular plugin for a reason. 
It makes SEO for WordPress super easy.
You'll use it to:
Optimize URLs 

Insert Meta Descriptions

Target Keywords

And More
Highly Recommend.
Keyword Research Checklist 
Keyword Research is the foundation of SEO and content creation… no pressure. 
Keywords are the words that your content is centered around. 
For example- This checklist's target keyword is "SEO Checklist". 
So when someone searches the phrase, "SEO checklist" this article shows up on the search results page of Google. 
And now that you know what a keyword is…
In this checklist, I'll show you how to find keywords your customers are searching for. 
1. Use
Google Suggest
to find long-tail keywords.
Using Google Suggest is one of the best ways to find keywords called "long-tail keywords". 
Not only is it FREE, it's also easy.
Long-tail keywords are 3 or more words and usually easier to rank for. 
Start by going to Google.
Type in a keyword that has to do with your business. 
For example: "SEO Checklist"
Don't click enter…Wait for Google to give you options.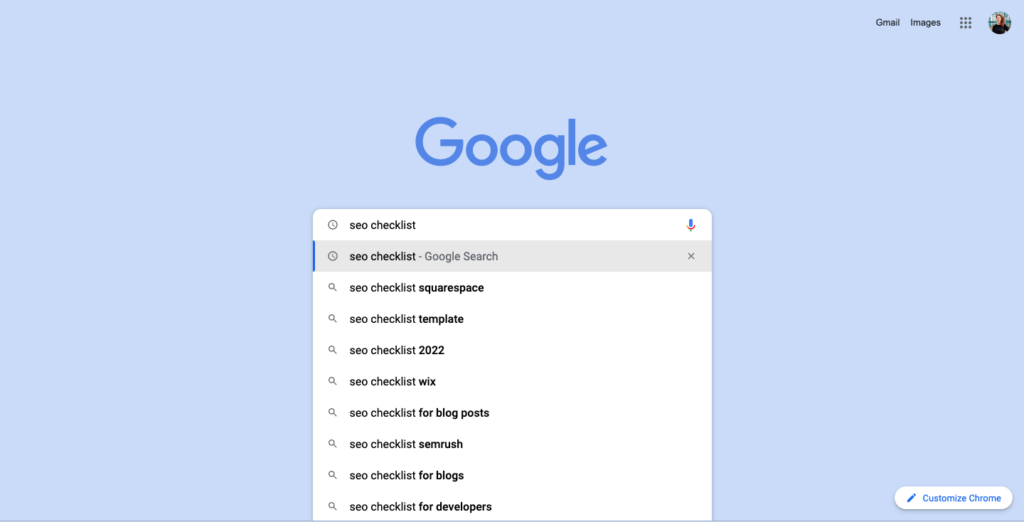 And there you go. 
A list of keywords people are searching for. 
Also, another tool to checkout is keywordtool.io. It gives you a long list of Google Suggestions and search volume. So you know which keywords are worth your time.
2. Use "The Google Keyword Planner" to find
short-tail keywords
. 
The Google Keyword planner is a FREE keyword tool created by Google for Google. 
And although Google created it for Google Ads, it's still a very useful tool for SEO.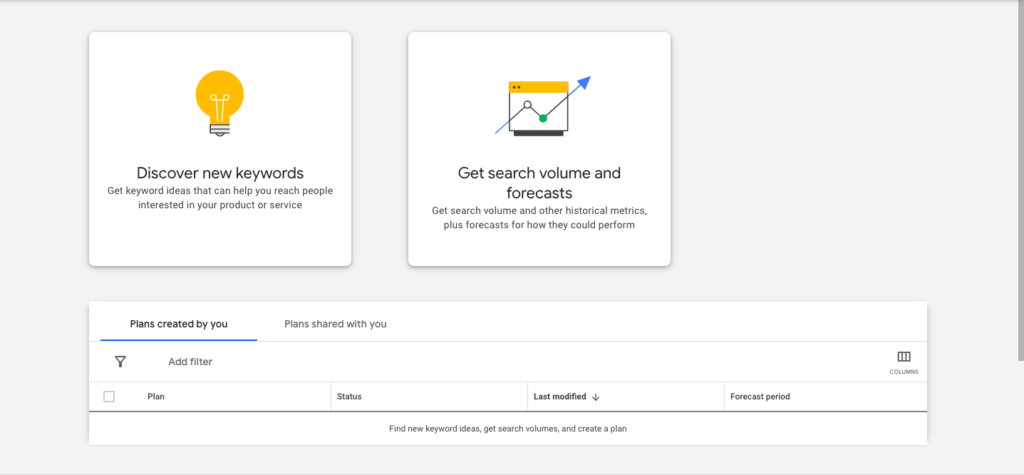 And because Google made it, you know that you're getting accurate information.
Here's a guide on how to use The Google Keyword Planner by Backlinko. 
3. Use the KWFinder to find easy-to-rank-for keywords
In steps 1 and 2, you learned how to find long and short-tail keywords. 
Now, you can use the KWFinder to see how difficult those keywords are to rank for on Google. 
Keep in mind, this is not a free tool. But there is a free-trial to get you started. 
Here's a video on how to use the KWFinder. 
4. Use Answer the Public to find Questions to Answer
If you've ever struggled with ideas for blog posts, answering common questions about your industry is a good place to start.
Answer the public is a great free tool to help with that. 
And once you find a great question, all you have to do is create content to answer it. 
5. Identify Top Competitor Keywords
Find out what your competitors are ranking for, and go after the same keywords.
I recommend SEMRush for this one.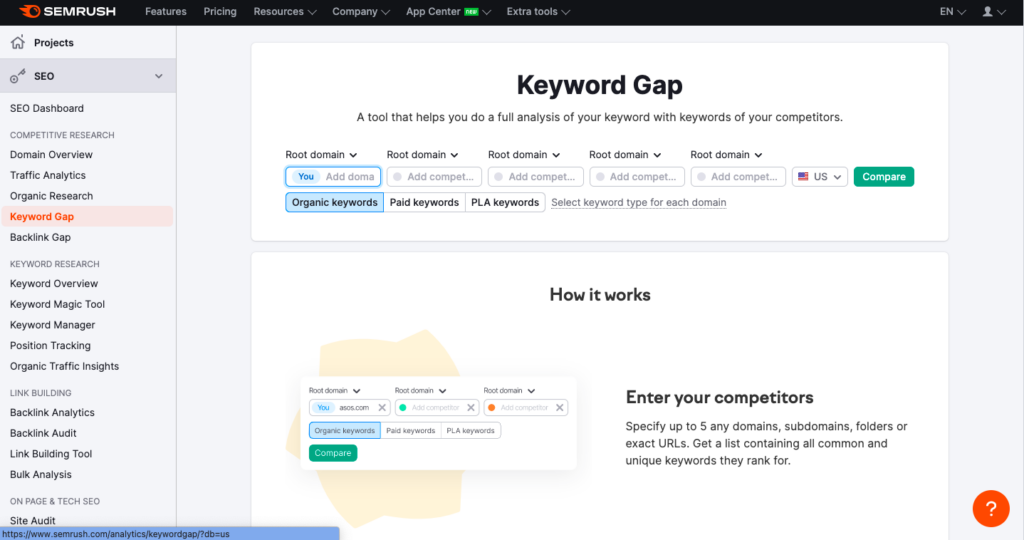 You just copy your competitor's URL and plug it into the keyword tool.
Then BOOM. 
You have a list of their keywords to add to your own.
Here's a video on how to do that. 
6. Use SEMRush for All of the Above
If you want an all-in-one tool and have some money burning a hole in your pocket, SEMRush is the way to go.
I can't talk highly enough about this tool. 
Here's a video on how to use it.
Also, if you're looking for a FREE in-depth content-led SEO training. Backlinko just added a new one. 
And it's amazing. 

On-Page SEO Checklist
Now that you have your tools set up and a keyword list started, it's time for on-page SEO.
If you already have blog posts on your website, your first task is to go through your old content and make these changes.
Why not drive more traffic to the content you've already spent time and energy on?
1. Make Sure Your Keyword is in the URL
Keep in mind that the url of your blog doesn't have to 100% match the title of the blog. 
But including the keyword in your URL helps Google understand what your page is about and can improve your click through rate. 
For example: the target keyword of this page is "SEO Checklist", so the url is goodteam.agency/blog/seo-checklist
2. Keep the URL Short and Sweet
Why?
Because according to backlinko, Google loves short URLs.
And we're here to make Google love us. 
3. Add Your Keyword to the Front of Your Title Tag
You probably already knew that you should add your keyword to your title. 
But what you might not have known is that you should add it to the beginning of your title. 
Fun Fact: When I first learned this, I thought this was a silly rule. 
As long as the keyword's in the title, who cares where, right?
But then I started thinking about what I do when I Google something. 
I skim the search results for exactly what I typed in. 
And the goal is to get as many people to click on your post as possible.
So it makes sense to put that at the beginning right? 
4. Use Your Keyword in the First Paragraph of Your Content
Google looks at the first paragraph of your content to see if your page is actually about what's in your URL. 
So make sure it's in your first paragraph.
5. Use Your Keyword in the H1, H2, and H3. Tags
Although it's important to add your keyword in the header and the subheadings of your content, it's not always easy to do it naturally.  
Also, this tip isn't going to make or break your organic traffic so if you can't add your in your keyword for most headers, don't stress about it.
But if you can, every little bit helps.
6. Tell Google What Your Image Is
Google doesn't know what your image is unless you tell it what it is. 
You'll do this by naming the photo when you upload it to your website. 
And adding in alt text.
7. Don't Keyword Stuff 
Back in the day, if you wanted to rank your content for a keyword you just added it to the page as many times as possible.
Now, Google will penalize you for adding your exact keyword to your content too many times.
So instead, add phrases similar to your keyword. 
For example: 
If your keyword is "how to start reading more".
You can add in:
Starting to read more

How to read more books

How to finish your TBR list 
You get it. 
8. Link to external sources
Make sure you link out to high authority sources.
For example: Here is a link to an article from SEMRush about outbound links. 
How many depends on the length of your content but try to use 1 link per 100 words. 
You know they are high authority because they are well-known sites or their domain authority is above 30.
Download the FREE chrome extension, Moz Bar. 
Here's a video on how to do that. 
9. Use internal Links
This is an easy one. 
When you create new content, link to 2-5 other pieces of content on your website. 
Linking to other content on your website gives your audience the chance to look at other pieces of content.
And gives new content a boost of link juice. 
Also, try and use the keywords from your other content as your anchor text when you link to them. 
For example: This blog about SEO headlines. —-It has the keyword "SEO headlines"- so I used it as the anchor text. 
Technical SEO Checklist 
Technical SEO is worth investing your time. 
A site that works properly is essential for ranking well in search engines. 
Fortunately, fixing these kinds of problems isn't super difficult, especially if you use this list.
1. Find Crawl Errors
When Google has trouble understanding a page on your website, they call it a "crawl error". 
And if Google can't understand what's on your page, it's not going to rank well. 
So, to find those errors, go to the "Coverage Report" on the Google Search Console.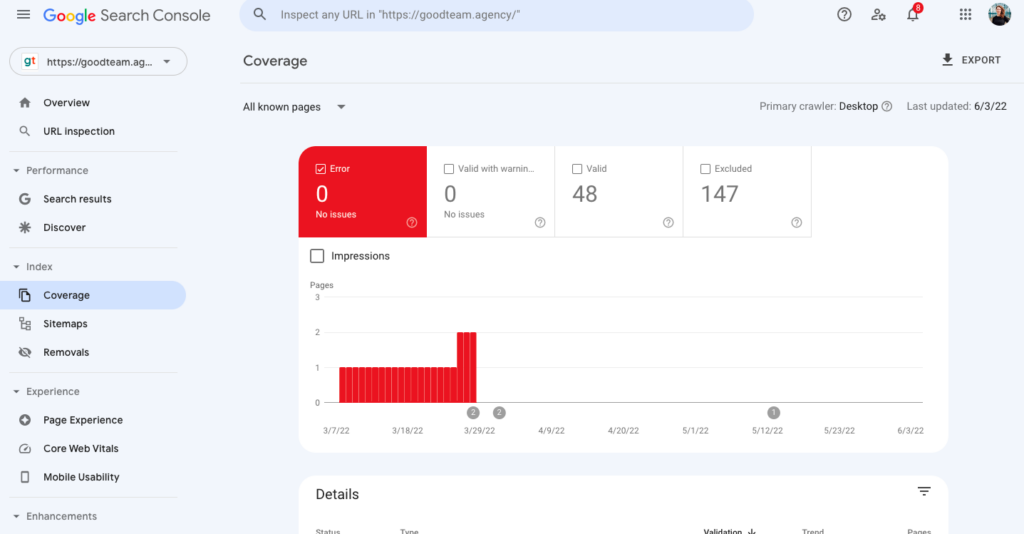 If you see any errors show up like robots.txt is blocking search engine spiders, that's something you'll want to fix right away.
Here's an article for more information on the coverage report and how to fix errors.
2. Understand How Google Reads Your Page 
Just because you can see everything on your page, doesn't mean Google can. 
And again…
If Google doesn't understand what's on your page, it's not going to rank well.
So, to understand how Google reads your page, go to Google Search Console and use the "Inspect URL" feature. 
Here's an article for more on how to do that. 
3. Make Sure Your Website Works Well On Mobile Devices
Google prioritizes mobile friendly sites.
So if your website doesn't do well on mobile, it's not going to rank well.
Understand if yours is by using Google's Mobile-Friendly Test.
Just add in your URL and Google will give you a green "yes" or red "no".
Easy peazy. 
4. Broken Links
Have you ever clicked a link, only to visit a 404 page? 
Broken links leave a bad impression on your potential customers and can really make an impact on your SEO.
An easy way to fix them? 
Use a FREE tool called DrLinkCheck.com to scan your website for broken links. 
And once you find them, you can fix them. 
Here's an article for more on that. 
5. Make sure your URL is HTTPS 
Secure your website with HTTPS.
Not only is your website more secure, it's also something Google uses to rank your website.
Here's a guide on how to migrate your website to HTTPS. 
6. Understand Your Site Speed
Have you ever visited a website that's slow to load? What do you do? 
You leave immediately and don't come back.
Not only that, but Google uses it as a ranking tool.
So, to make sure your site loads quickly on both mobile and desktop, head over to a FREE tool called PageSpeed Insights.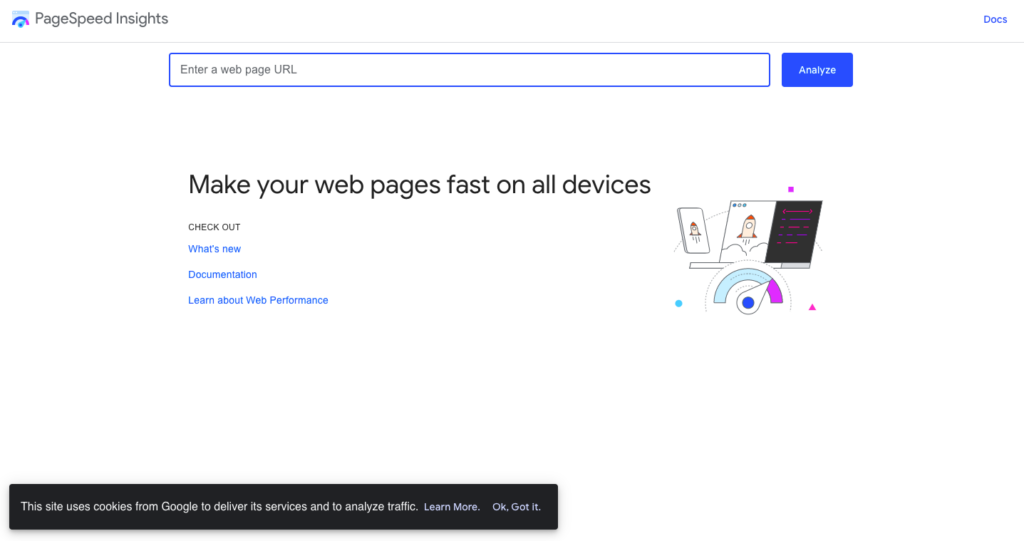 Here's an article for more on that. 
Content Checklist 
If you want to rank in Google, Content is King. Creating great content means providing value to your audience.
But keep in mind, it's more about quality than quantity. 
In this checklist, we'll go through the exact steps to take to produce quality content that will rank well and draw an audience. 
1. Use "The Skyscraper Technique"
I love this technique. 
Basically, you find a popular piece of content, you make something better, and then you promote it.
There are a lot of steps to how to do this, but nothing you can't handle.
Here's an article on how to use this technique.
2. Increase Readability 
Have you ever read a piece of content that looks like a never ending novel?
I hate that.
But when you break your content into bite sized pieces, people are more willing to read your content. 
And the longer people stay on your page, the better your ranking in Google. 
3. Go In-Depth
Long-form content (2,000+ words) that goes in depth on an entire topic does better than 5 smaller pieces of content on the same topic.
So if you've been creating content for a while, (before creating something new) consolidate your shorter blogs on the same topic by turning them into one "complete guide". 
4. Use Schema Markup
To help Google understand what content is on your website, use Schema Markup.
That said, this tool has a bit of a learning curve. 
So, here's a video for more on that.
5. Structure Content Based On What's Been Working
Certain types of content perform better than others.
What makes the difference?
It all boils down to- original value.
Content like:
Expert opinions

Surveys

Case studies

Evergreen content (content that last throughout the years)

Unique Images

Original Charts

And last but not least, the most important and most challenging part of SEO. 
Link Building.
Link Building Checklist
Linking building is building connections and strategically building links to your website. 
Link building is like social proof for websites. 
The idea is, the more people that link to your website, the more Google views you as a trustworthy source. 
Makes sense. 
But purposefully working toward building links is somewhat controversial.
Some people swear by it, some people don't think it's necessary.
The truth?
Google listed backlinks as one of their top 3 most important signals to rank on Google. 
So yeah, it's worth doing. 
But just because link building is worth your time and energy, doesn't mean it's easy. 
But it's something you can do.
And in this checklist I'll walk you through how to do it. 
1. Guest Posting
If you're brand new to link building, guest posting is a great place to start. 
But instead of writing guest blogs for anyone and everyone, make sure you write for sites related to your industry.
Why?
Because with guest blogging, you not only get a backlink, you also have the opportunity to get in front of an audience that someone else built.
2. Use your competitor
This method is about working smarter, not harder.
If your competitor's on page one of the search results page, use that to your advantage.
Why start from scratch, when you can just duplicate what's already working?
To do this, I recommend using SEMRush.
If you're just starting out, you can sign up for the free trail.
Here are the steps:
Search for your competitors on the first page of Google

Copy their URL

Add it to the backlinking tool in SEMRush

Find easy to duplicate links like guest posts, podcasts, and interviews
3. Use link roundups
Link roundups are posts that link out to great content.
Here are the steps:
Find link roundups in your niche by googling "target keyword"+"best of"

Pitch your amazing content to the person that runs the roundup (you can use SEMRush to find their email info by using the backlink tool or go the websites contact page)

Wait for a "yes"
4. Become a Guest on a Podcast 
Instead of writing a guest post, contribute to a podcast. 
You're still getting in front of a new audience, and a backlink when they post their new episode
5. Use Shout Outs  
Think of the influencers in your industry. The blogs you follow, podcasts you listen to, books you read to stay up-to-date.
Now, mention those people and their ideas in your content. 
Then, let them know.
That's it. 
Everyone loves praise, regardless of how successful they are. 
And if they're seen in a good light, most people are more willing to share your article. 
Which again… gives you the chance to get in front of a new audience.
HubSpot SEO Checklist
We've talked about a lot of tools for SEO. But if you already have a HubSpot account, why not implement it in your SEO strategy?
In this checklist I'll go over all the ways HubSpot can help you with SEO.
1. Keyword Research 
Use HubSpot's topic research tool to research keywords and understand their search volume.
Here's a video on how to do that. 
2. Organize and Track your Keywords
So now that you have a list of keywords that you want to target, it's time to organize. 
If you're already using HubSpot, this is a no-brainer. 
Use the SEO tool in HubSpot to organize them into topic clusters. 
Here's a video on how to use the SEO tool in HubSpot. 
3. Use Recommendations 
If you're using HubSpot as a CMS, Hubspot will give you recommendations to improve your on-page SEO.
Here's a video for more on that. 
Conclusion 
That's it! Now you know how to drive more organic traffic to your website!
Want to get the most out of your HubSpot account? Grab your free ebook on 10 HubSpot Hacks You Probably Didn't Know.
Get Your Free DIY 40-Point HubSpot Audit with Videos!