How do you choose the right HubSpot Solutions Partner for your business?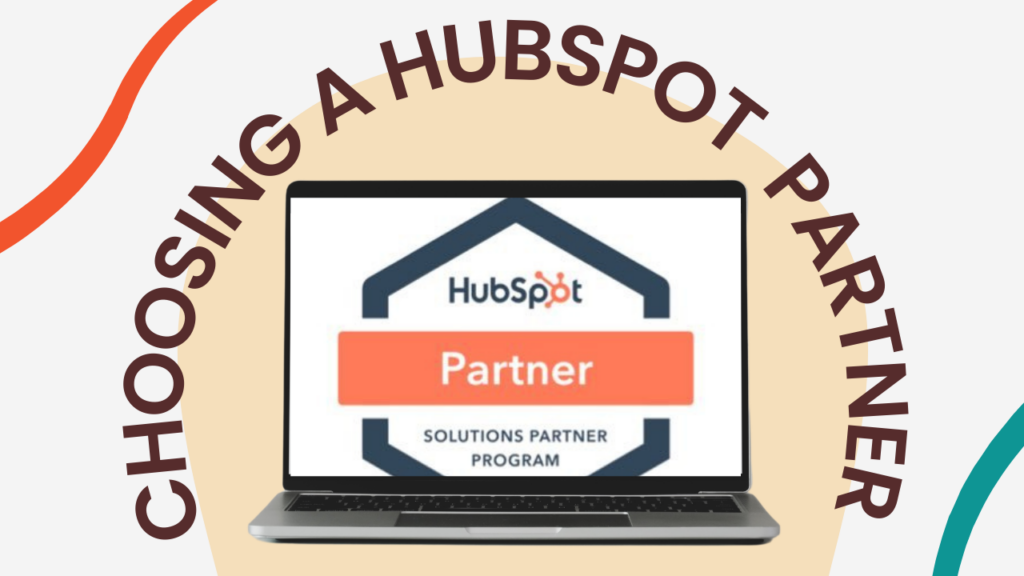 If you've landed on this article, chances are, you know that a HubSpot solutions partner is the best way to get the most out of your HubSpot investment. But with so many options available, it can be challenging to know where to start. So, how do you choose the right HubSpot partner for your business?
The short answer is…
It depends on the needs of your business.
Not all HubSpot partners are the same, and the right partner will depend on the services you need.
Here are a few questions to help you get started on the right path:
Are you looking for a short-term partner to help you with a project?

Are you looking for long-term support to answer questions as needed?

Do you want someone to run your entire HubSpot account for you?
Answering these questions will help you take a giant step forward in finding the right fit.
For some of you, answering these questions might be enough to help you choose your ideal partner. 
But for others who need more of an "in-the-weeds" list of questions, read on, because the rest of this article is just for you. 
But before we get into the nitty-gritty, let's make sure we're on the same page about what a HubSpot solutions partner actually is.
What is a HubSpot Solutions partner, and why do you need one? 
Put simply, a solutions partner is a business certified by HubSpot, with the main goal to help business owners maximize the value of the investment they've made in the software. 
And if the Solution Partner is good at what they do, they'll work with you to understand your business needs and develop a tailored strategy for leveraging HubSpot and its tools to achieve success.
So, with that in mind, here are seven key questions to answer in order to find the right HubSpot Solutions Partner for your business.
1. What are your HubSpot needs?
Before you start looking for a partner, make sure your company has identified what its needs are:
Do you need help with Data Organization?

Do you want to use the Sales Hub and create pipelines to streamline sales processes?

Are you just interested in email automation?

Do you need help building out a new website using HubSpot?

Maybe you're looking for the full package – from strategy and design to content creation and lead and data organization.
2. Do you have an internal team dedicated to HubSpot?
It's important to take stock of the resources you have internally and how much time you're able to dedicate to managing a HubSpot account. 
Do you have an internal marketing or web development team who can help manage your HubSpot account? 
If not, it may be best to look for a partner who can handle your entire strategy from start to finish.
3. What is the time commitment needed from a partner vs. what your team can commit to?
A good partner should be able to work with you on the amount of time they are willing to commit to your project. Some partners may provide more of an "à la carte" approach, while others will offer a full-service experience. 
Make sure you discuss these expectations upfront so that everyone's on the same page.
4. Do you need someone to drive your HubSpot car (management) or ride in the passenger seat (support)?
There's a big difference between someone who manages your HubSpot account and someone who provides support.
Do you need help with strategy and planning or just maintenance and troubleshooting?
If it's the latter, you may just need someone to provide support.
If it's the former, you'll need a partner who can help come up with solutions and drive your HubSpot account forward.
Understanding the difference up front can save you time in the long run.
5. Do you have a budget for the project?
It's important to be upfront about your budget when talking to potential partners.
Every business's needs are unique, and having that information up front will help you find the partner who can best meet your needs without breaking the bank.
Prices and solutions vary between Solutions Partners. Some may charge $30,000 for Onboarding, while others may charge $10,000. Knowing your internal capacity and goals will help you decide the value that comes out of investing with a Solutions Partner. 
Good Team falls on the middle-low end of prices, we're a small team whose focus is on retaining long-term relationships with our clients. While we do offer Projects as a service, our goal is to become your go-to HubSpot experts for as long as you are using the platform.
6. What is their company's success record?
The right HubSpot partner will be able to demonstrate their success with other companies in the past. 
Do they have case studies that prove they know what they're doing? Don't be afraid to ask for case studies or references so you can get an idea of what they're capable of.
For example, at Good Team, we have case studies to show the success of our work. Like this one that shows how we helped one of our clients double their sales just by using HubSpot to its fullest potential.
7. What's their experience and expertise?
Finally, you want to make sure the partner has experience working with HubSpot.
Do they have HubSpot certifications? Are they up to date on all the newest features?
Do they have an industry they enjoy working with over others? Will they tailor HubSpot to fit your specific needs?
Finding the right HubSpot Solutions Partner for your business is a critical decision. Make sure to ask yourself these seven key questions and look for partners who can demonstrate success with other companies, have experience and expertise in working with HubSpot, are willing to commit the time needed, understand your budget requirements, and more.
At Good Team, we believe that by leveraging our knowledge of HubSpot, you will be able to create better customer experiences that lead to increased sales conversions.
Here are some of the services we offer:
Get Your Free DIY 40-Point HubSpot Audit with Videos!