27 Incredible Inbound Marketing Blogs to Start Reading Today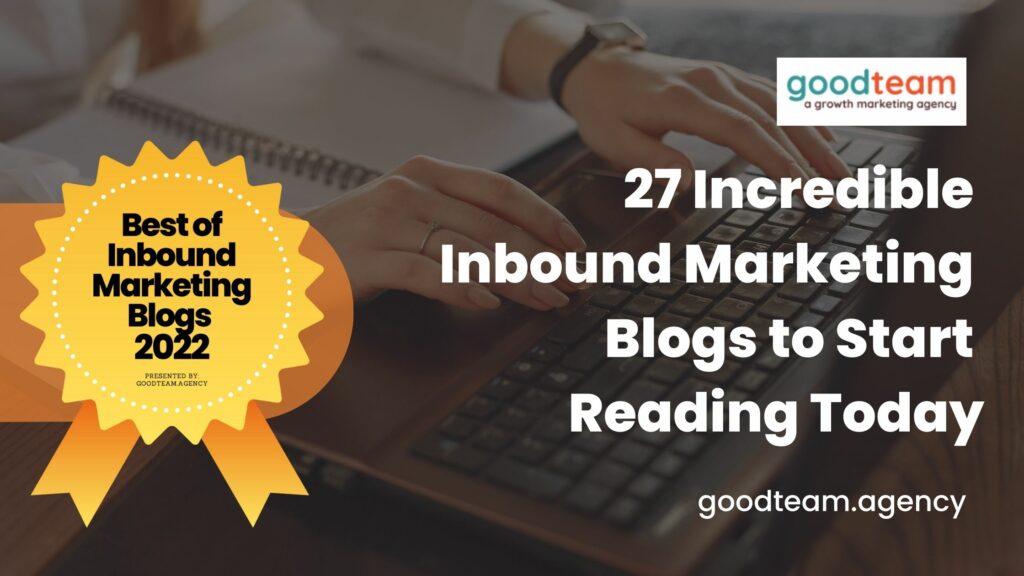 Here's a collection of the 27 best inbound marketing blogs on the web for your reading pleasure.   
As a content creator, I spend a lot of time reading these lists, and so do my colleagues here at goodteam.agency. But we're always looking for new material! 
So read through this list—and let me know if there are some other amazing blogs we missed. I hope this gives you something new to read with your morning coffee.
27 Incredible Inbound Marketing Blogs to Start Reading Today
A no-brainer for this list. If you're a fan of inbound marketing, you've probably heard of HubSpot. HubSpot's blog is the home-base for all things inbound, and overflowing with content for all marketers.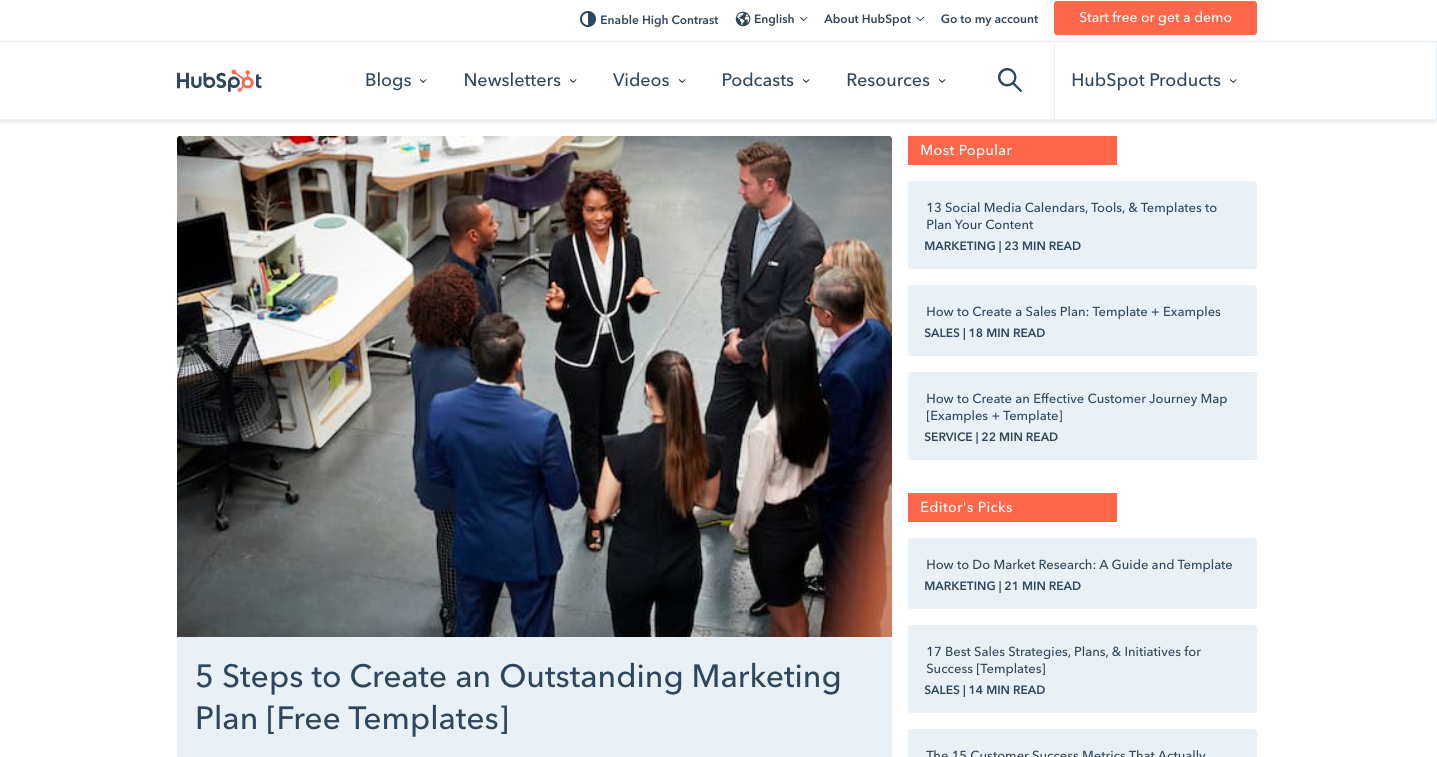 Posts You Might Like: 
An inbound marketing agency that specializes in branding and design, and named the #4 INBOUND MARKETING AGENCY across the Globe by Clutch Co.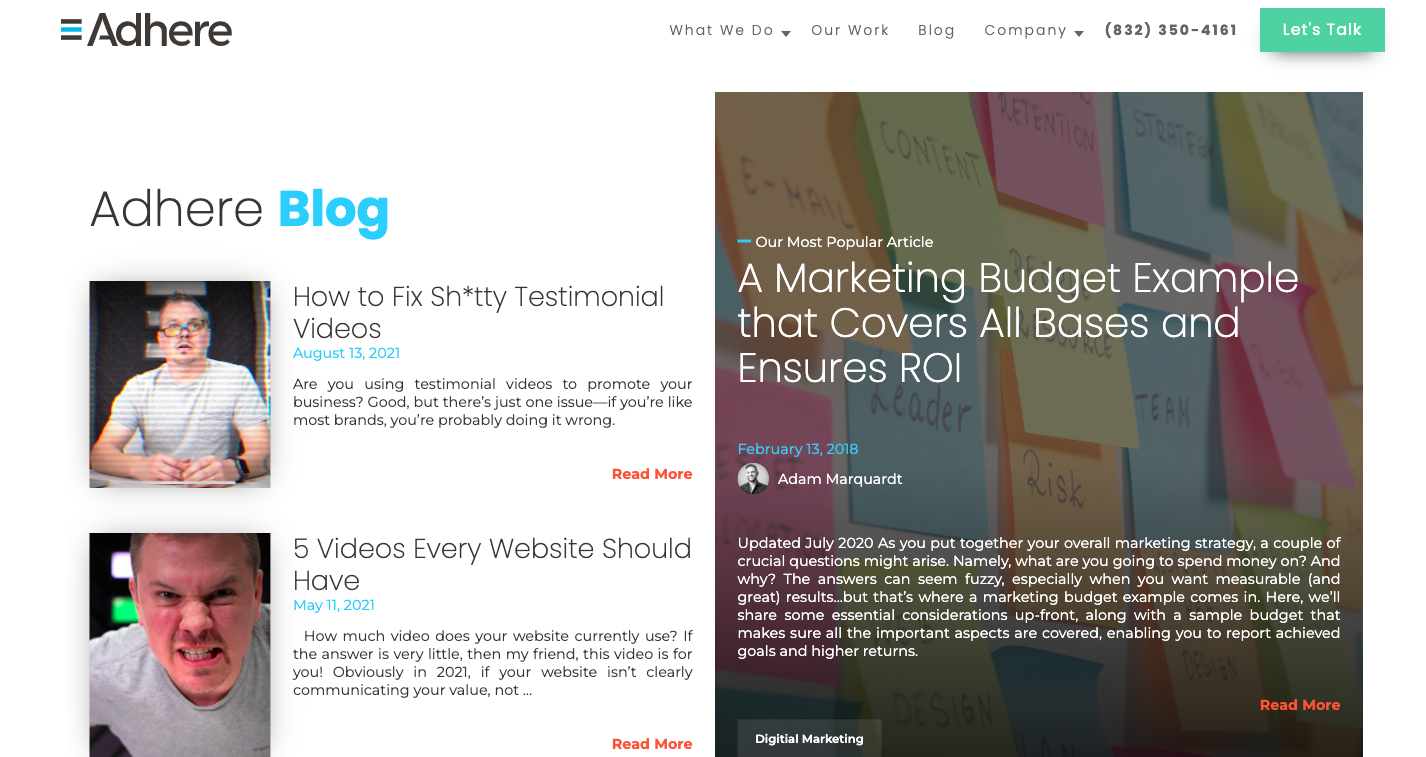 Posts You Might Like: 

Ann Handley is a writer, digital marketing pioneer, and Wall Street Journal best-selling author who inspires and empowers you to create marketing that your customers will love, igniting real results for your business.
Ann Handley writes and speaks about how businesses can escape marketing mediocrity to achieve tangible results. And she will inspire you to do work you're proud of.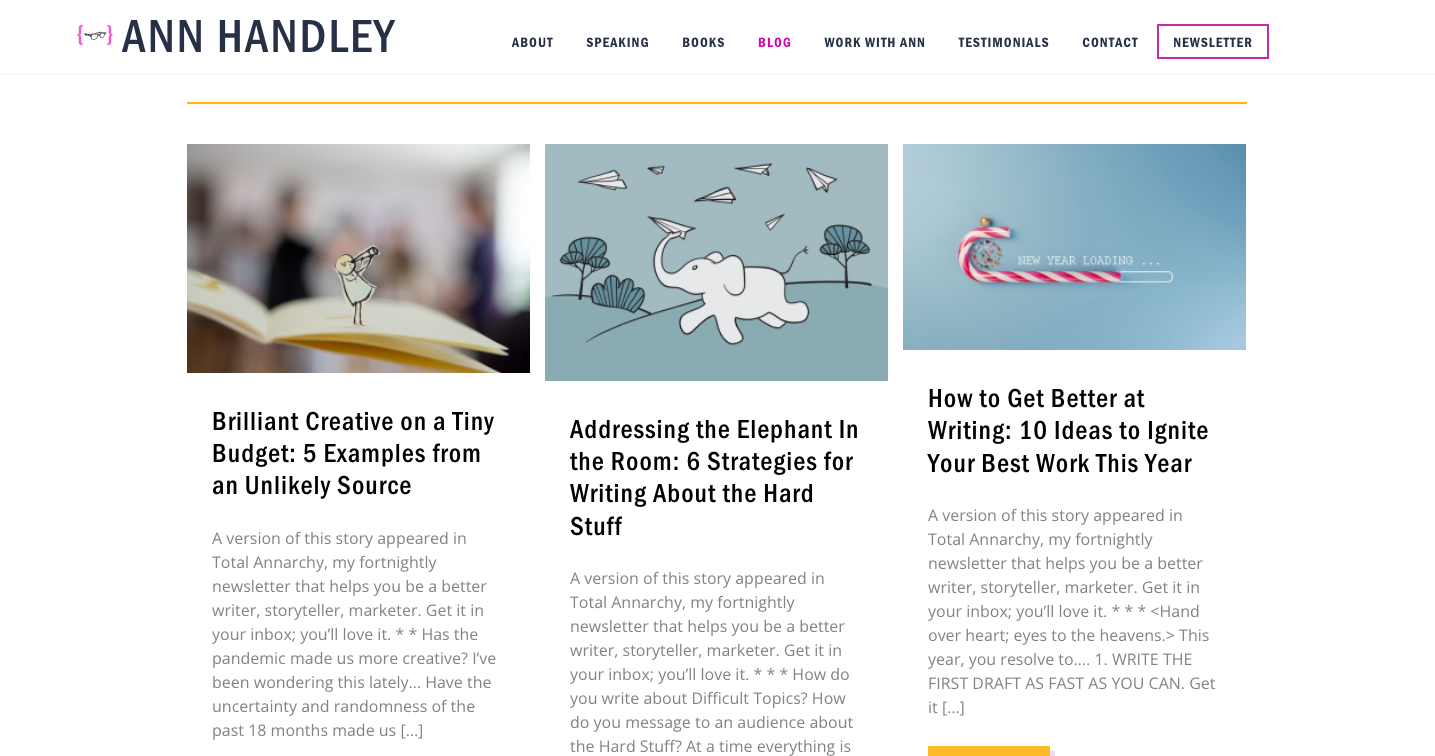 Posts You Might Like:
DigitalMarketer is the premier online community for digital marketing professionals. It's a place where you can learn how to market like a pro, connect with industry experts, and get the strategies and tools you need to grow and scale your business to new heights.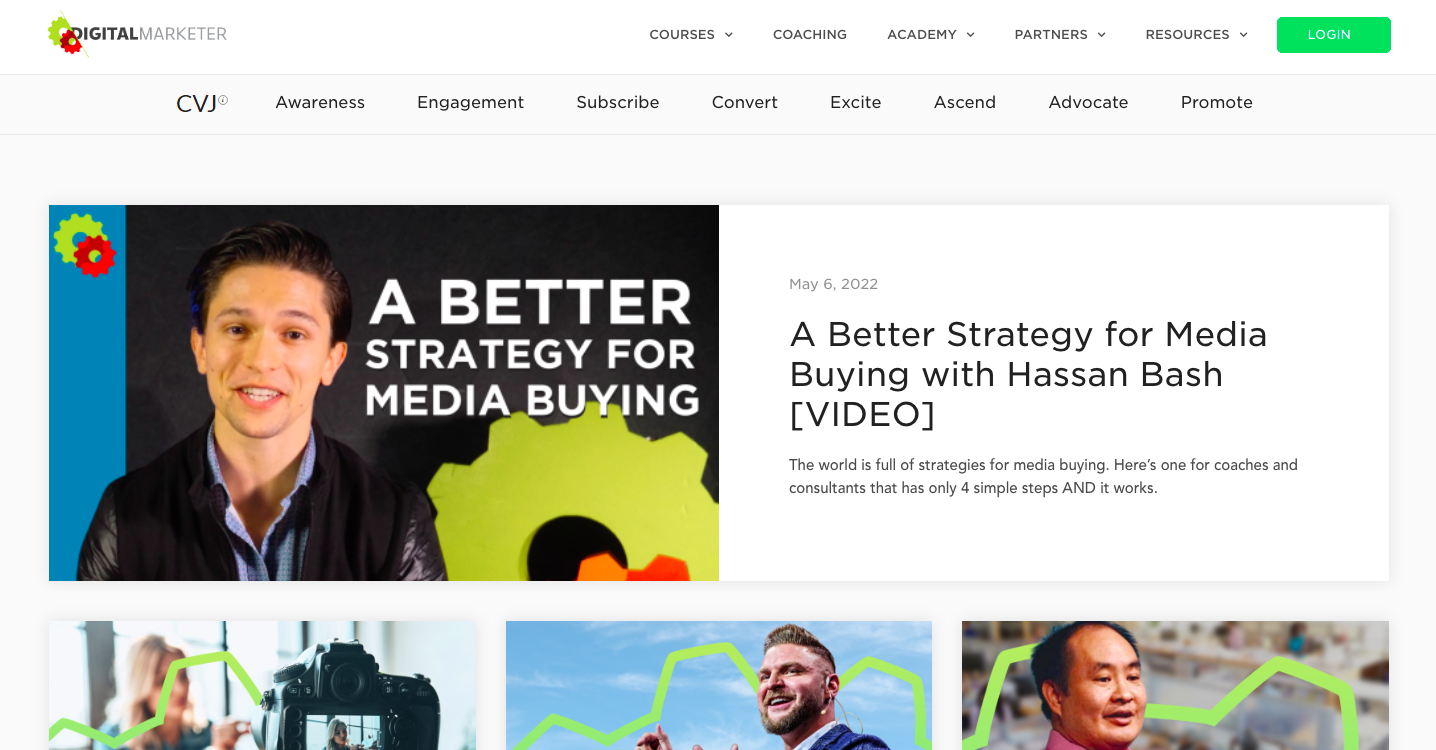 Posts You Might Like:
BLULEADZ main goal is applying inbound philosophies to every aspect of the organization.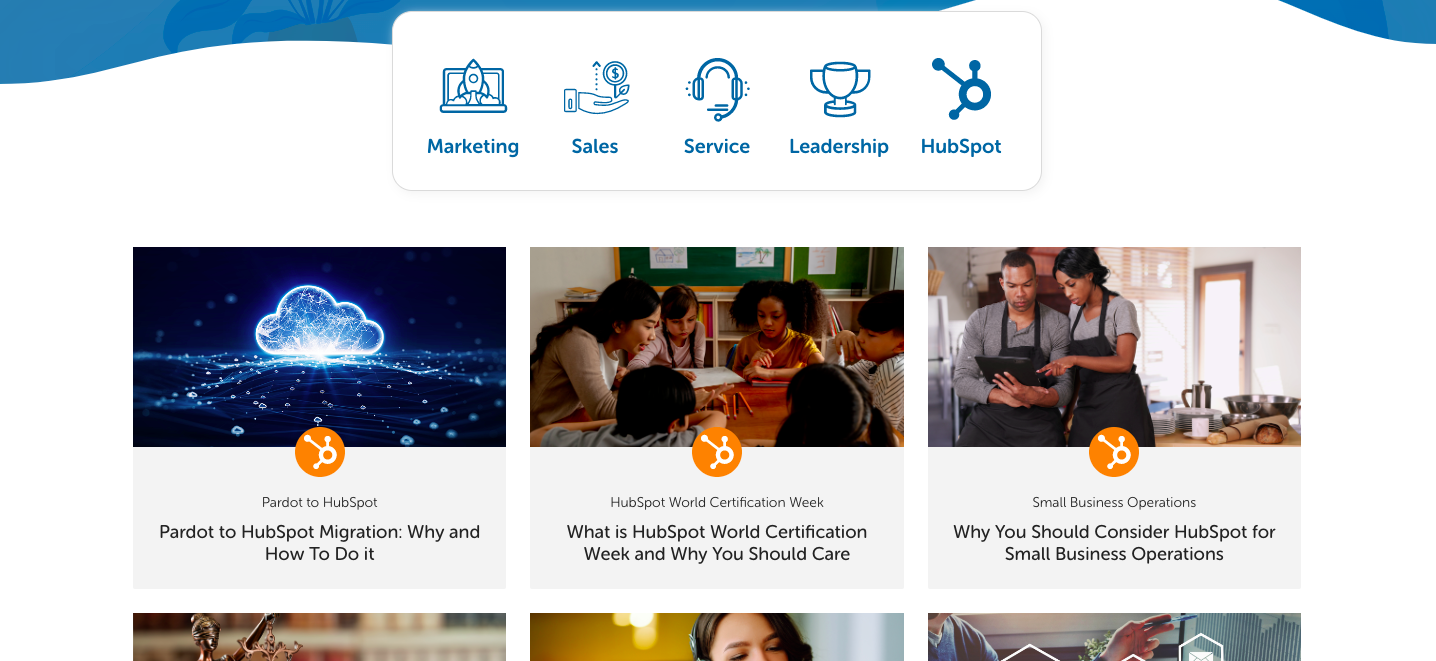 Posts You Might Like:
Convince & Convert is an experienced, highly focused analysis and advisory firm that creates effective, best-in-class digital marketing and customer experience strategies for the world's most iconic organizations.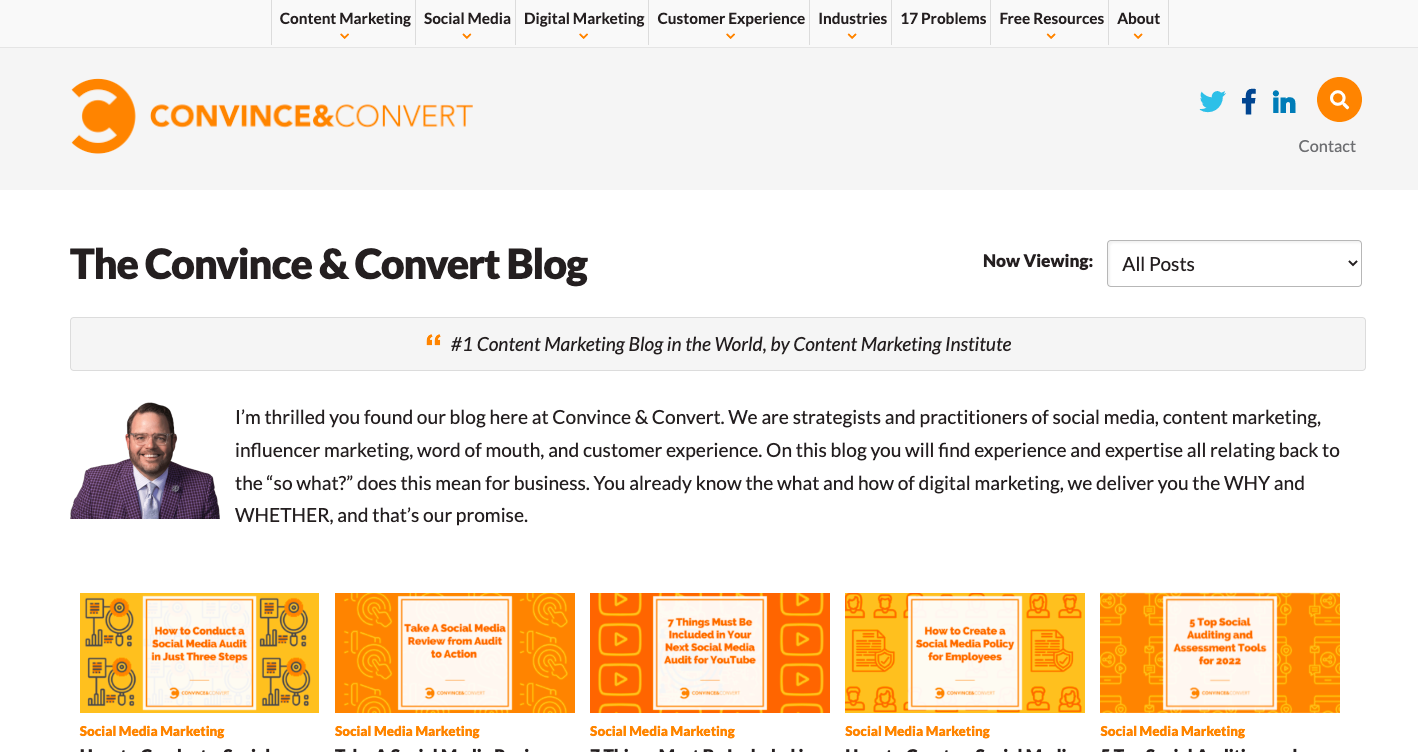 Posts You Might Like:

For nearly 20 years, Kuno Creative's inbound marketing agency has been a trusted partner to mid- and large-sized companies to capture and convert qualified leads through innovative digital marketing strategies.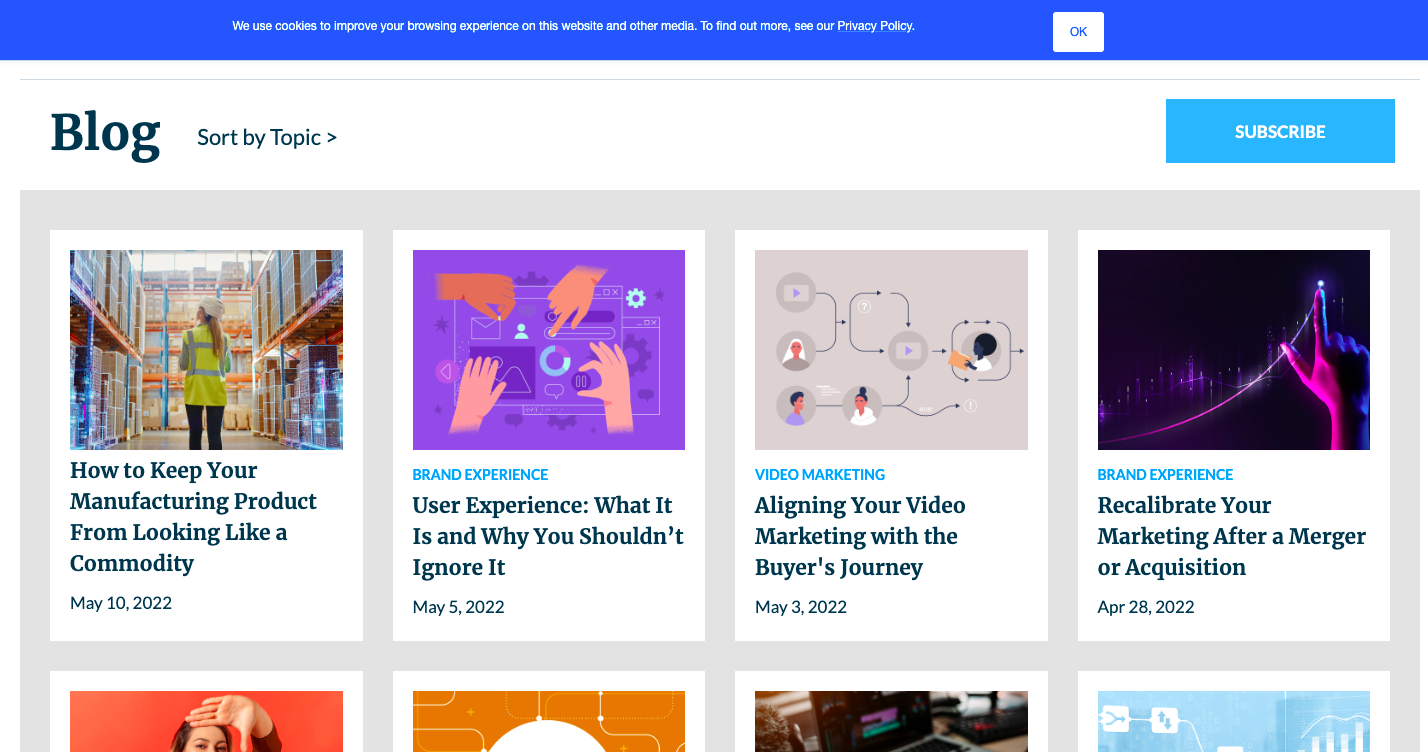 Posts You Might Like:
Since January 2006, Copyblogger has been teaching people how to create killer online content. Not bland corporate crap created to fill up a company webpage. Valuable information that attracts attention, drives traffic, and builds your business.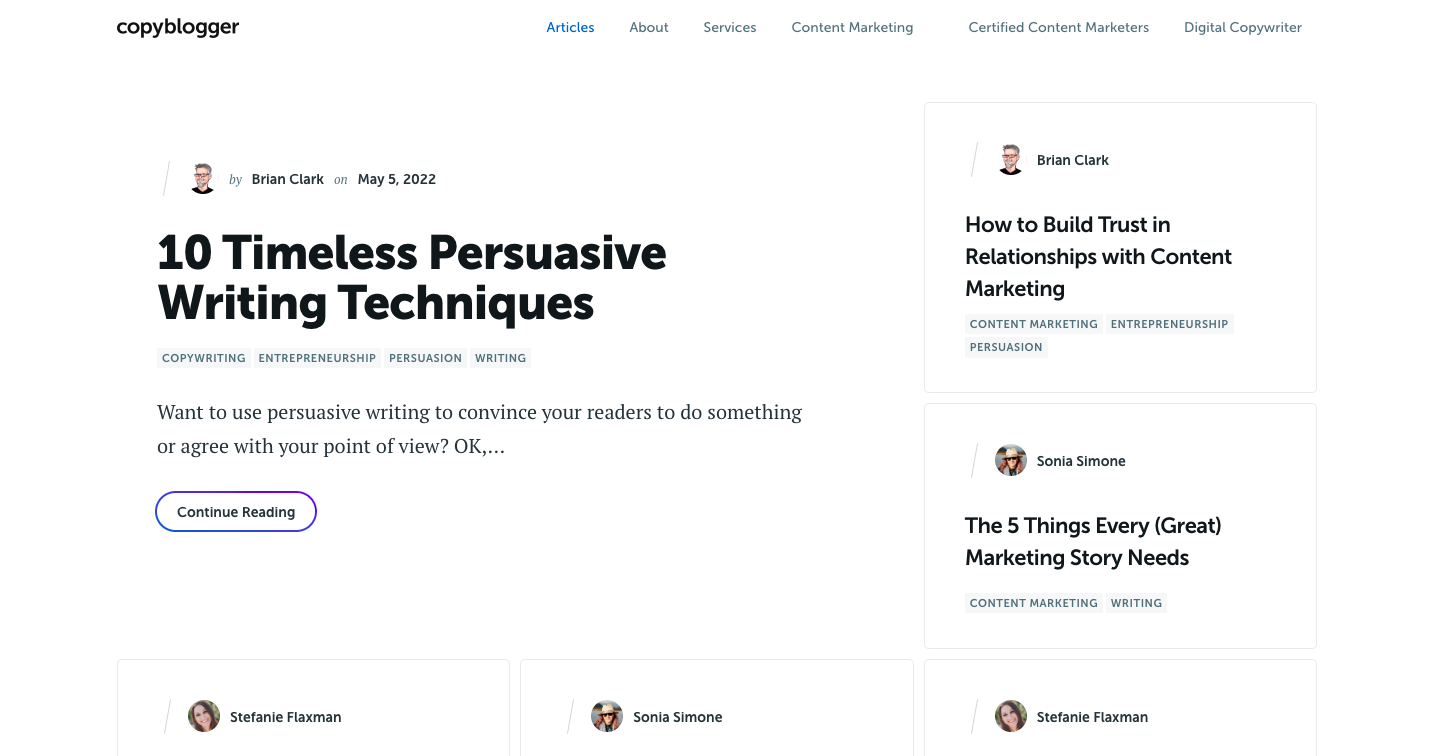 Posts You Might Like:
SmartBug Media® is a globally recognized Intelligent Inbound® marketing agency packed to the brim with experts in inbound strategy, design, content, web development, PR, sales enablement, and marketing automation.
Posts You Might Like:
In 2009, Lynton became one of the original HubSpot partner agencies. Now as a HubSpot Elite Partner, they'll provide you with the knowledge and tools to grow your business through integrated inbound marketing, including inbound solutions, website designs, and HubSpot integrations.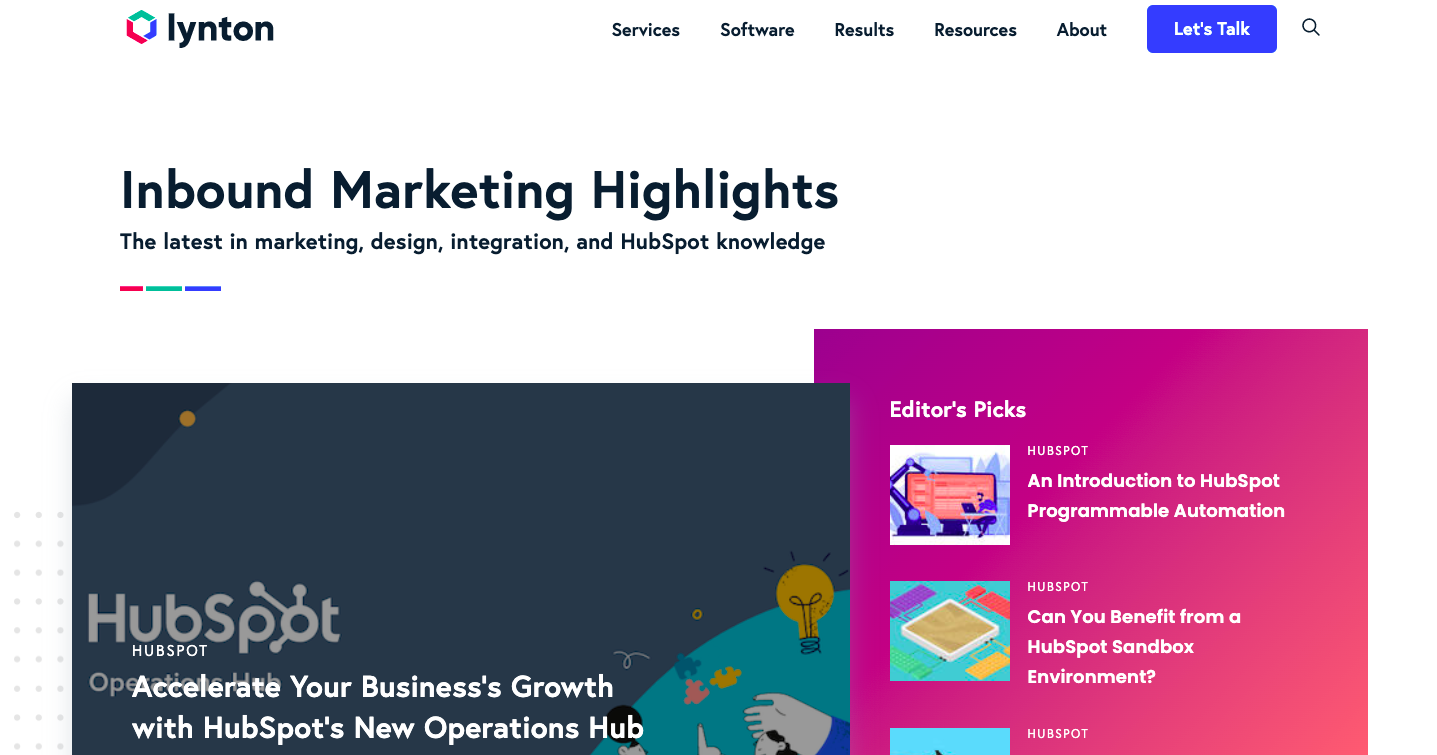 Posts You Might Like:

At Moz, they believe there is a better way to do marketing. A more valuable way where customers are earned rather than bought. They're obsessively passionate about it, and their mission is to help people achieve it. 
Posts You Might Like:
Trust Insights was founded in 2017 with a simple mission:
They help marketers solve/achieve issues with collecting data and measuring their digital marketing efforts so that they can make better decisions with the data and exceed their goals with more automation, fewer errors, and deeper insights.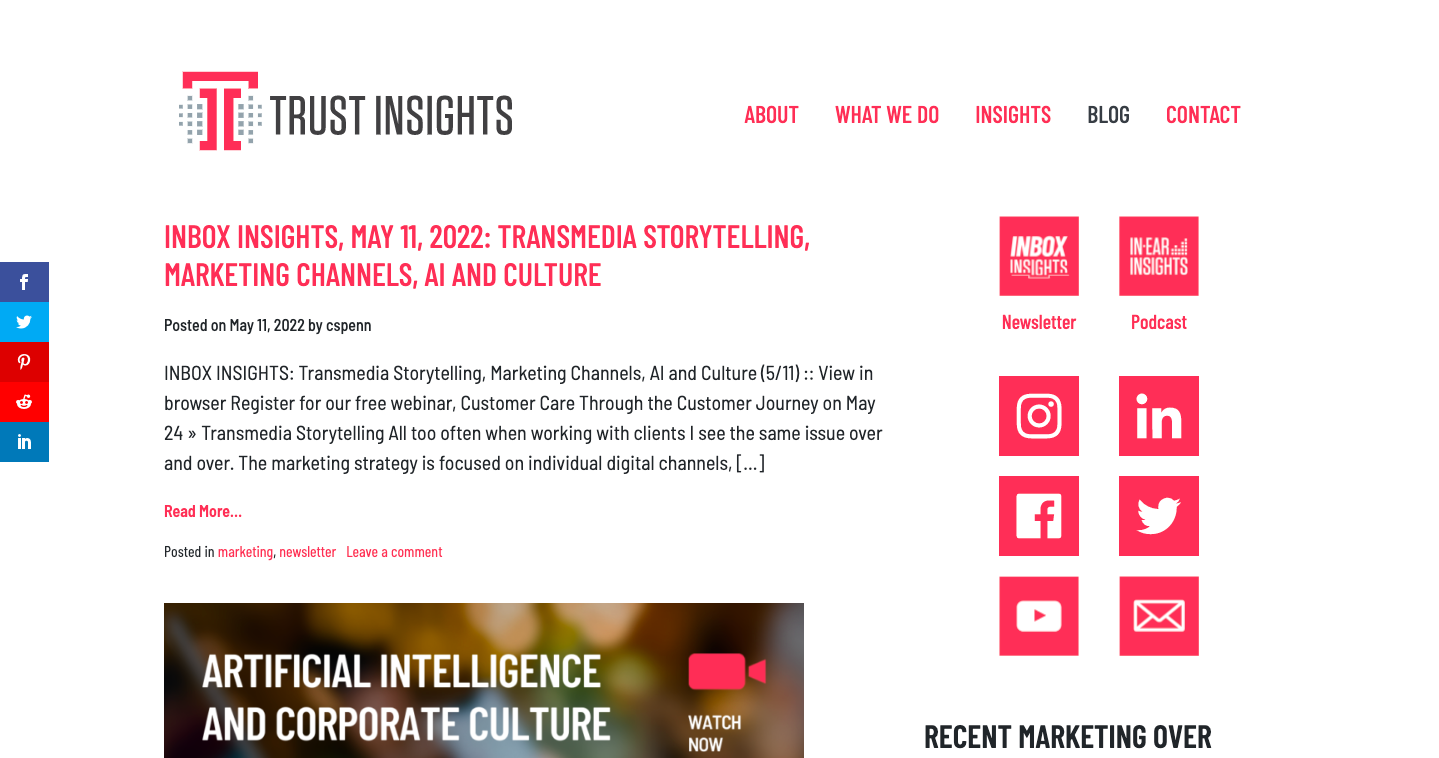 Posts You Might Like:
All inbound marketing is not created equal. Your audience is unique, and your customers choose you for a reason. That's why lasting success is only achieved through a comprehensive understanding of your unique target market, and a cookie cutter marketing solution won't cut it.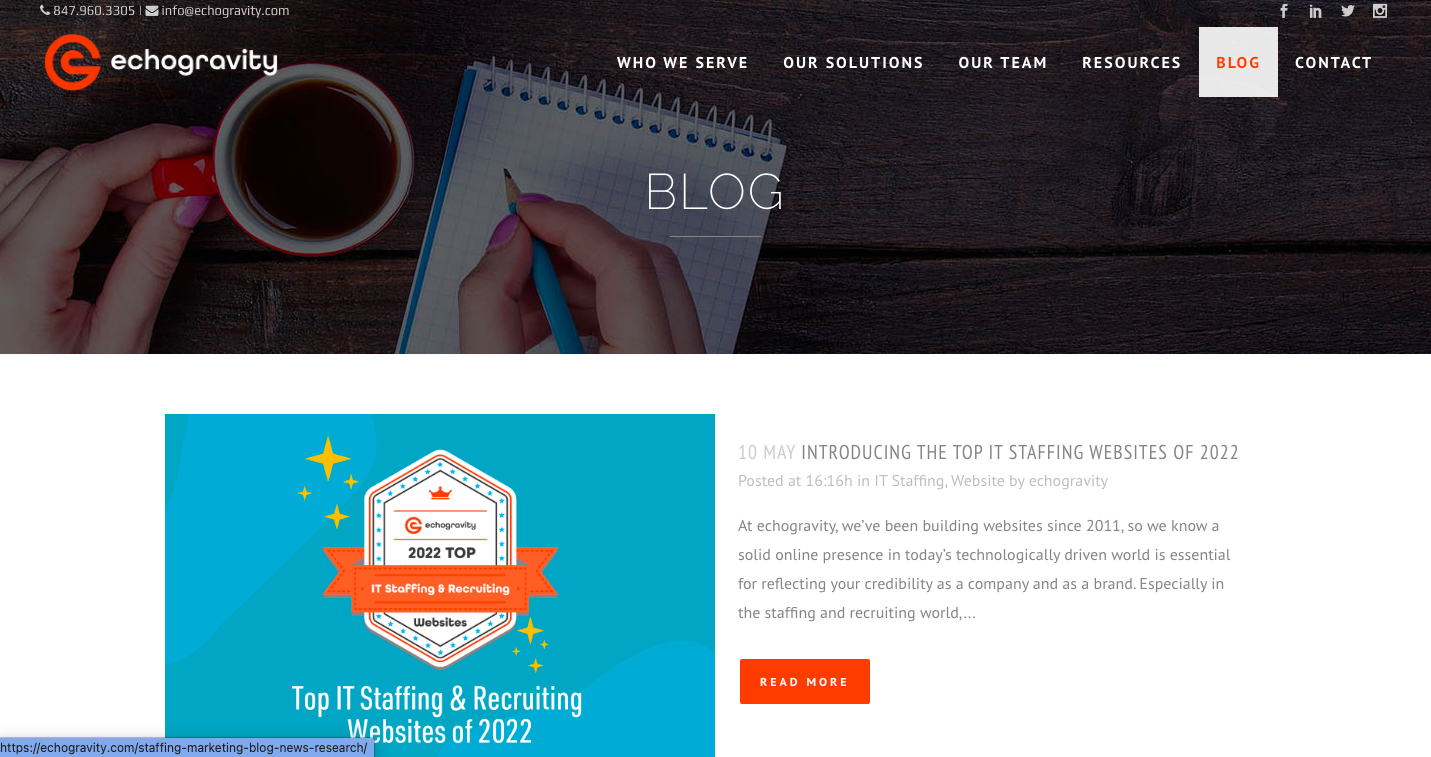 Posts You Might Like: 
Vengreso teaches, consults and practices modern digital selling strategies trusted by B2B brands such as CenturyLink, Cisco, Woodruff Sawyer, Conversica and others who partner with Vengreso to help their sales teams increase win rates through digital selling practices.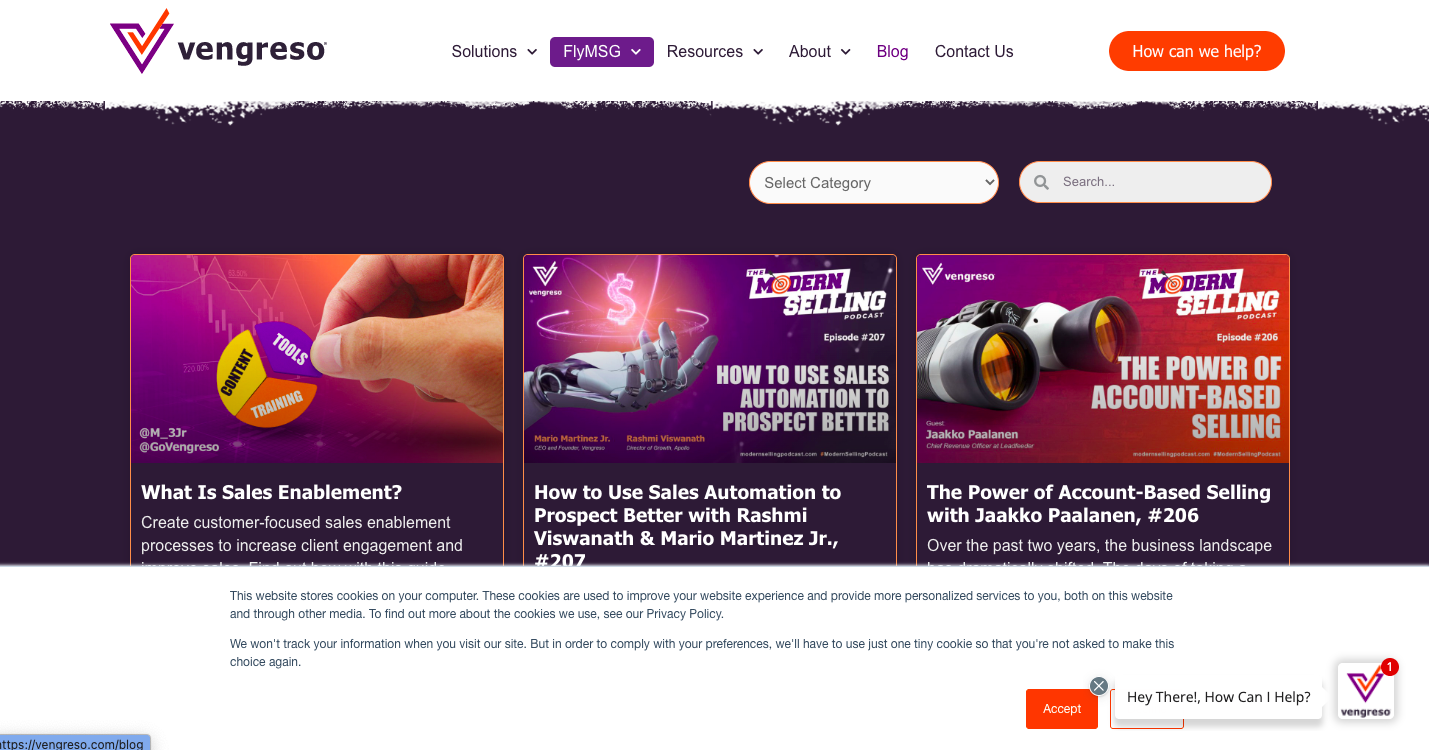 Posts You Might Like:
Chris Brogan is the Chief of Staff at Appfire and an executive-level strategist and CEO advisor, working with companies at the 100M+ revenue range.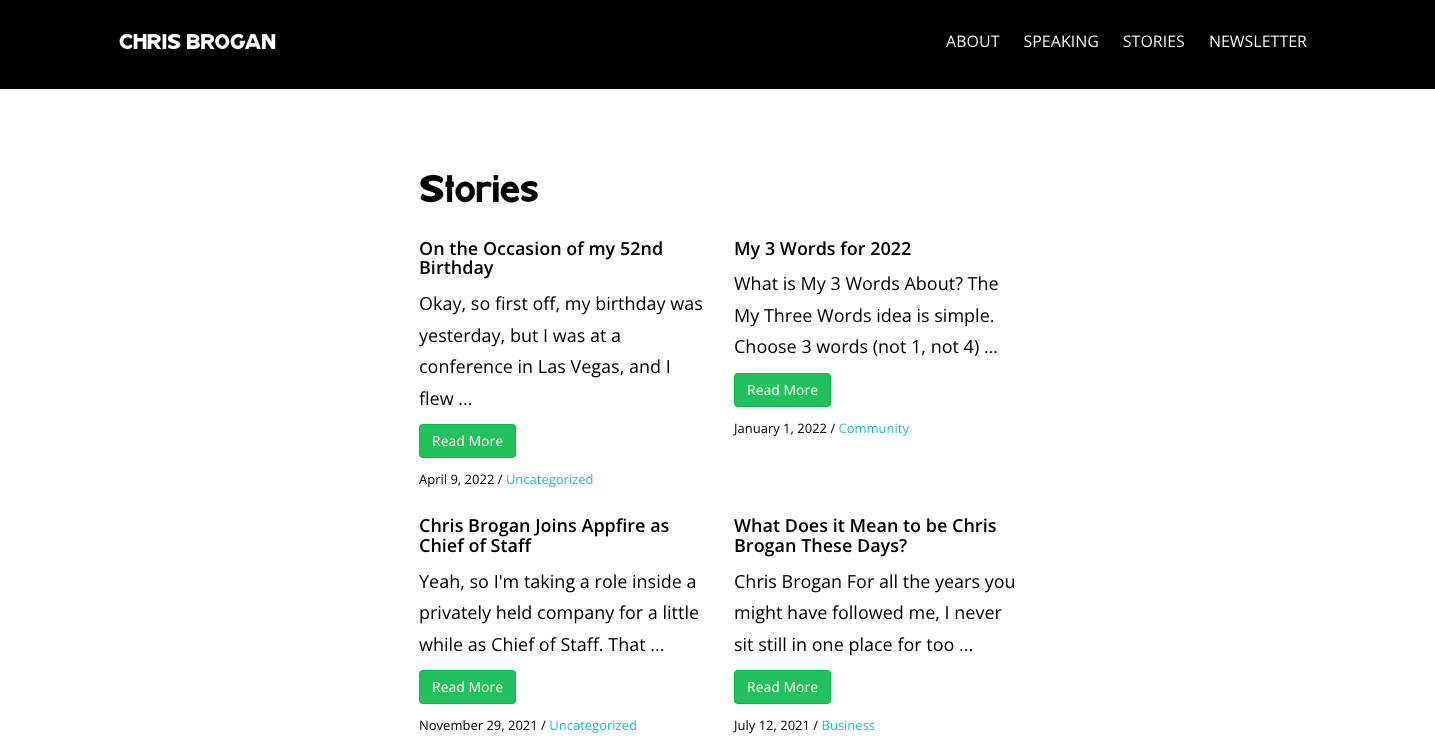 Posts You Might Like:

The articles David writes for the site are another tool he enjoys providing entrepreneurs to help them start their companies. If you are looking for a great place to start, I would recommend the following page: Zero to 100, where you will find a collection of short videos and associated slide decks covering the most important startup lessons that he has learned over the years.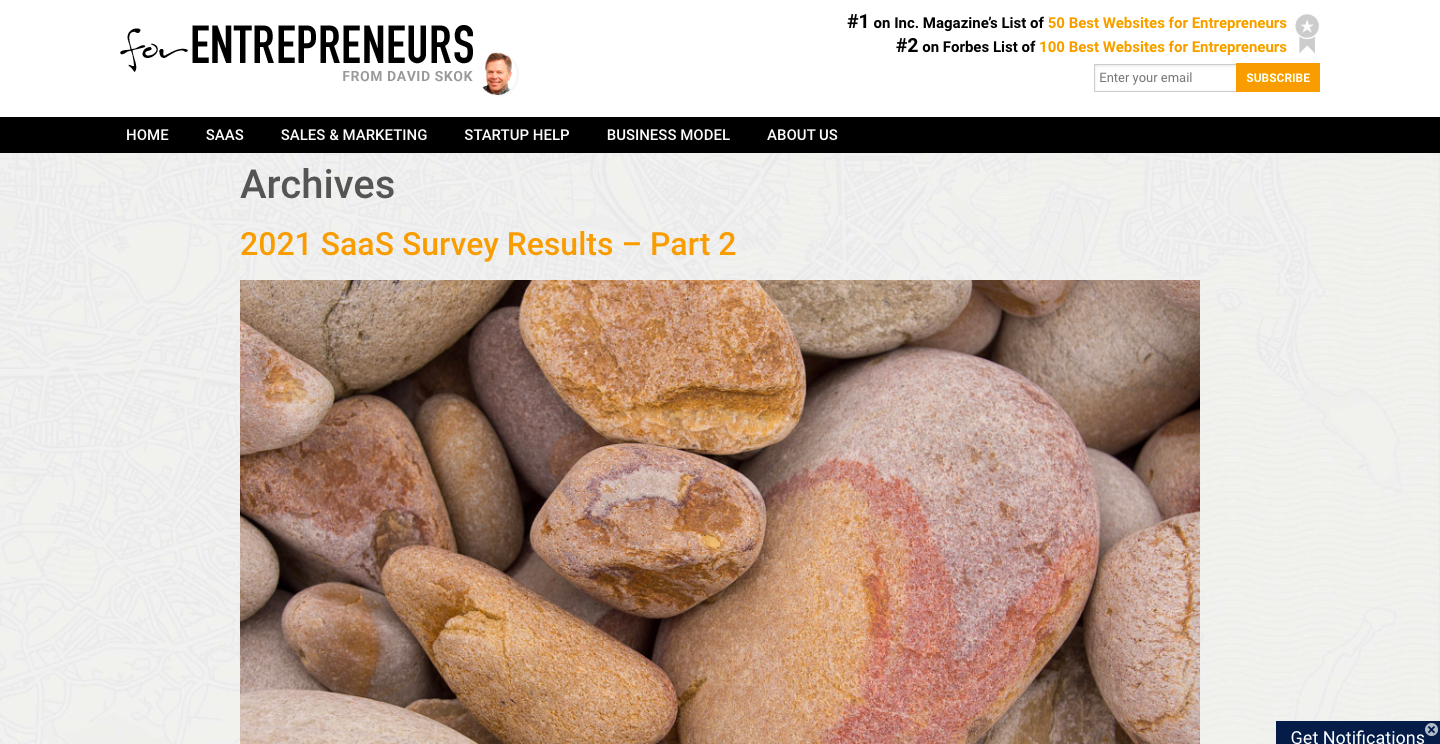 Posts You Might Like:
Since 2004, ProBlogger has been the home for bloggers wanting to create and grow their blogs, and then go professional to make money blogging. They've got over 8,000 posts with blogging advice, tips, and in-depth tutorials alongside the latest blogging trends.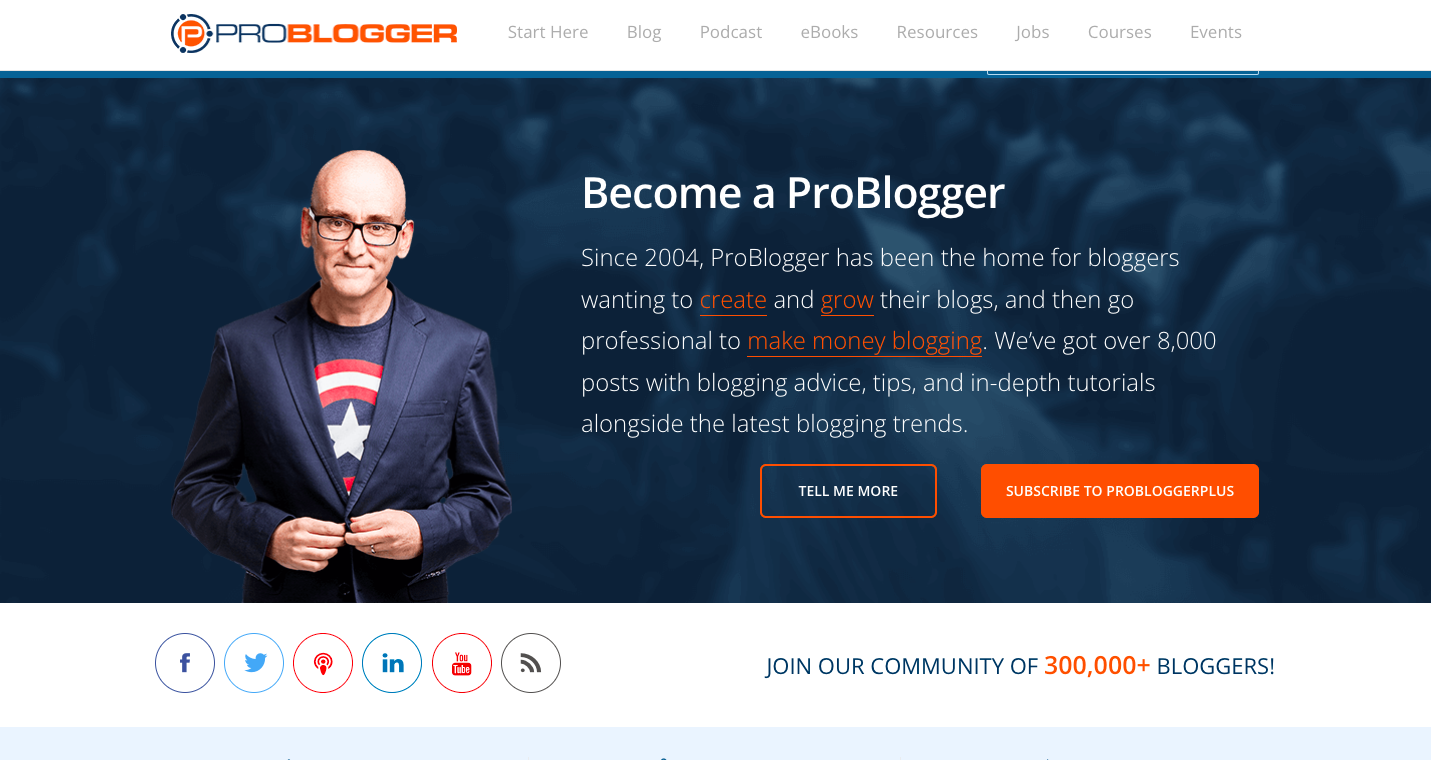 Posts You Might Like:
Everything you need to drive more sales from your inbound marketing
IMPACT services guide you to create content and video that turn your website into a top-performing salesperson.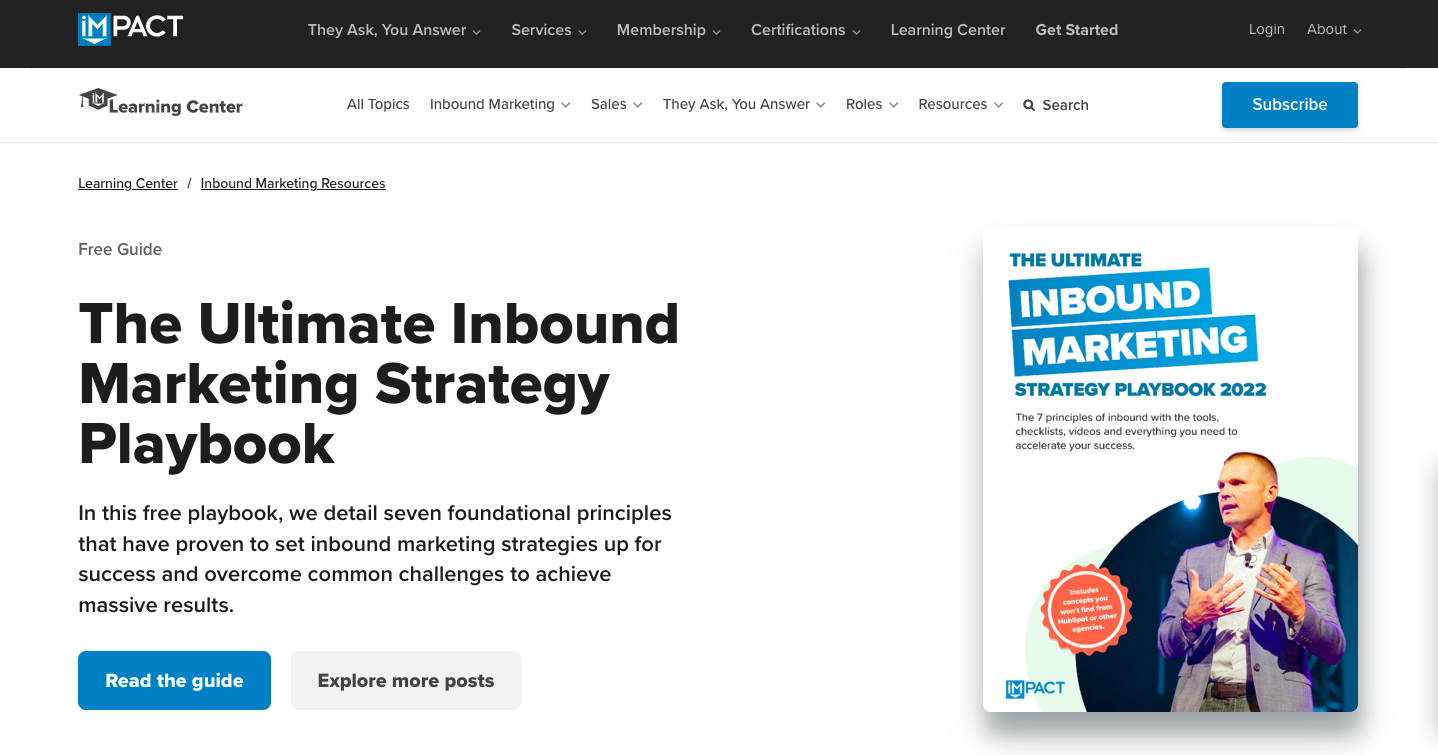 Posts You Might Like:
Forbes calls him a top influencer of Chief Marketing Officers and the world's top social marketing talent. Entrepreneur lists him among 50 online marketing influencers to watch. Inc.com has him on the list of 20 digital marketing experts to follow on Twitter. Oanalytica named him #1 Global Content Marketing Influencer. BizHUMM ranks him as the world's #1 business blogger.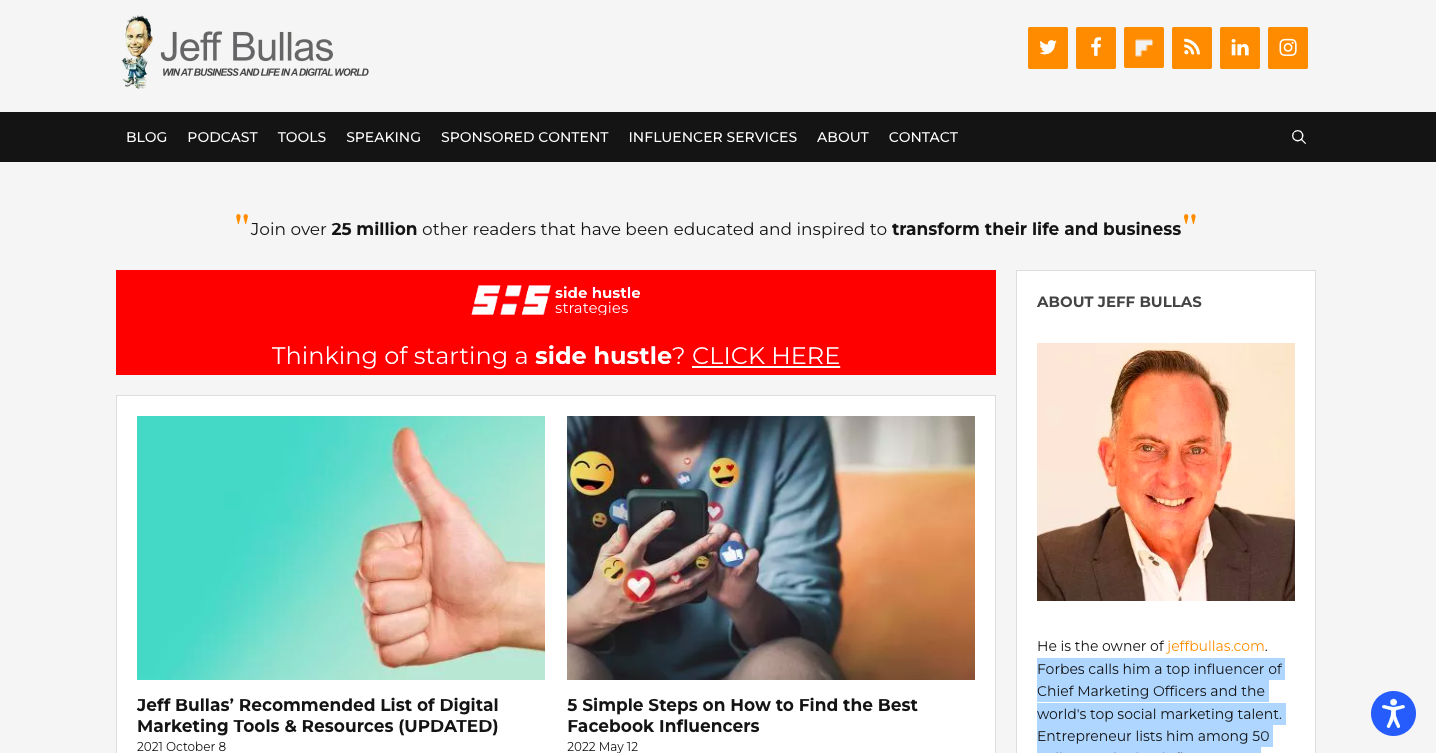 Posts You Might Like:

PR 20/20 is a marketing consulting and services firm, and the first-ever HubSpot agency partner. They help their clients solve problems and achieve goals with HubSpot. They use it to expand client businesses more efficiently and intelligently, tracking marketing and sales activities to bottom-line business impact.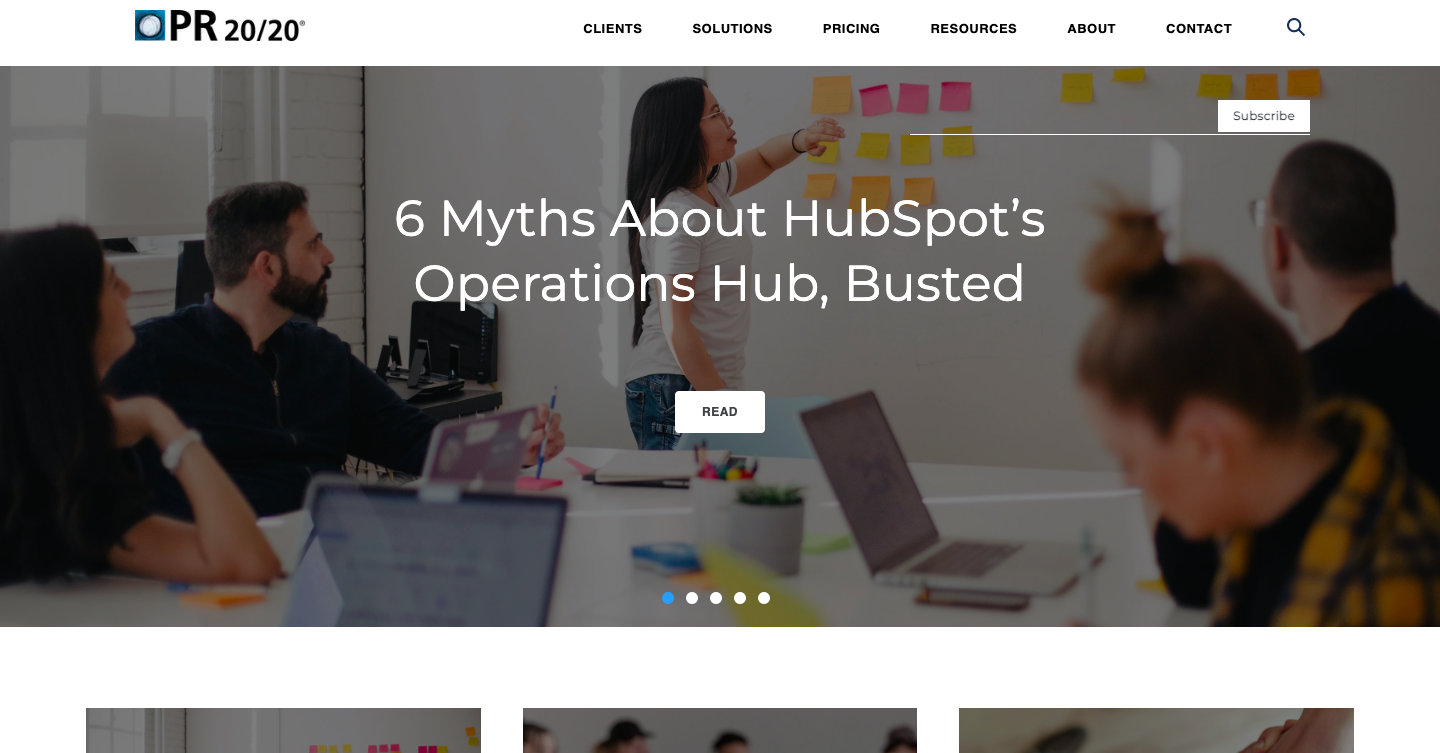 Posts You Might Like:
PMG was founded in 2002 by Susan LaPlante-Dube and Maureen O'Grady Condon. Susan and Maureen met by chance. Everything since has been totally strategic and tactical. Well… almost everything. (Not counting those Rachel-from-Friends era haircuts.) Their two principals merged their complementary skill sets, marketing backgrounds, upfront humor and oversized hearts to launch one of Boston's most dynamic B2B marketing agencies.
Posts You Might Light:
Twenty years ago, Eric and Mike (the two co-founders) started Square 2 with a few guiding principles. One, always give people the right advice in a no-fluff way. Whether they work with you or not, you'll be sure they're giving it to you straight. They want to help you, not sell you.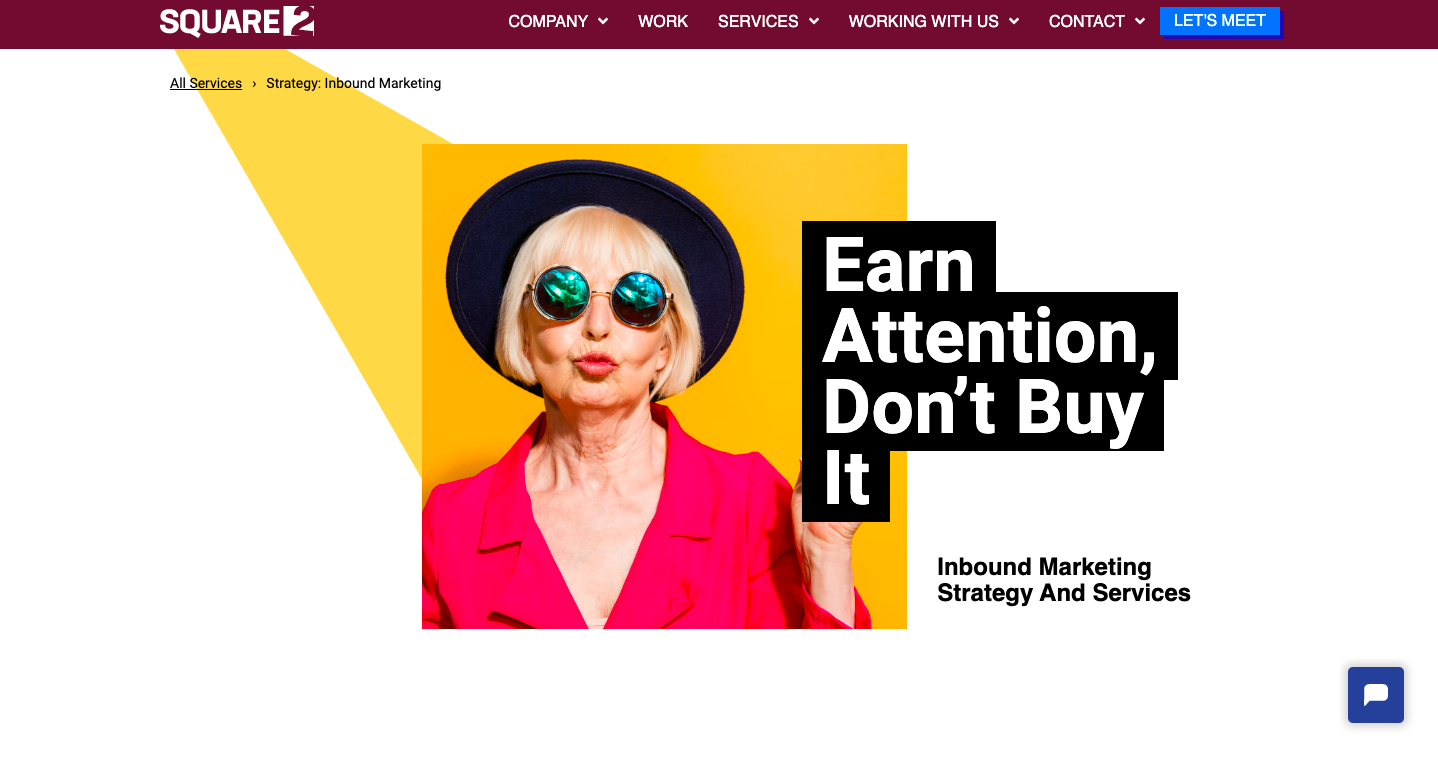 Posts You Might Like:
Seth is an entrepreneur, best-selling author, and speaker who knows what it takes to succeed in business and to be your own boss. In addition to launching one of the most popular blogs in the world, he has written 20 best-selling books, including The Dip, Linchpin, Purple Cow, Tribes, and What To Do When It's Your Turn (And It's Always Your Turn).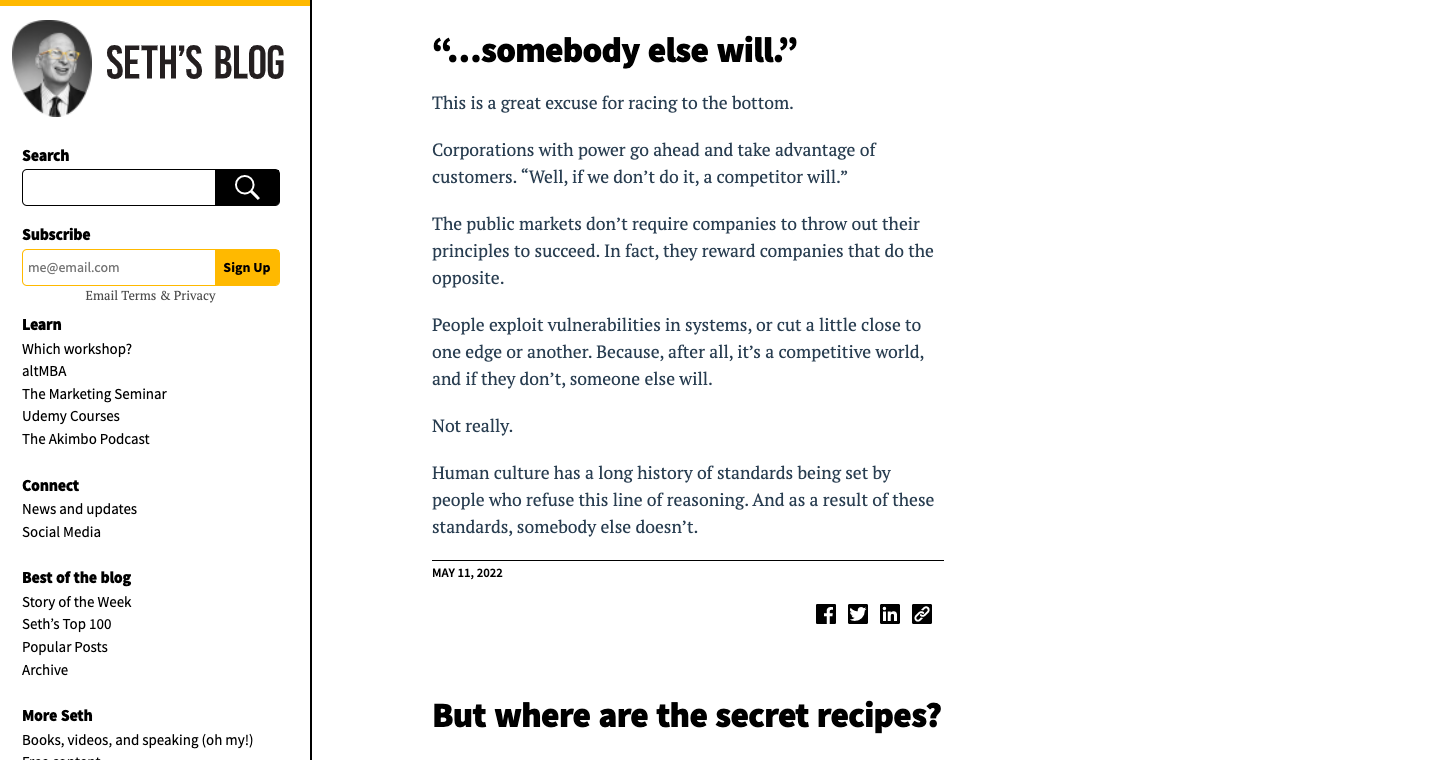 Posts You Might Like:
BeResponsive Media is a digital marketing company in Halifax, Nova Scotia, Canada. Their marketing firm ensures your business thrives on responsive and customized digital solutions. What makes them different from other digital marketing companies? They implement digital solutions based on real data.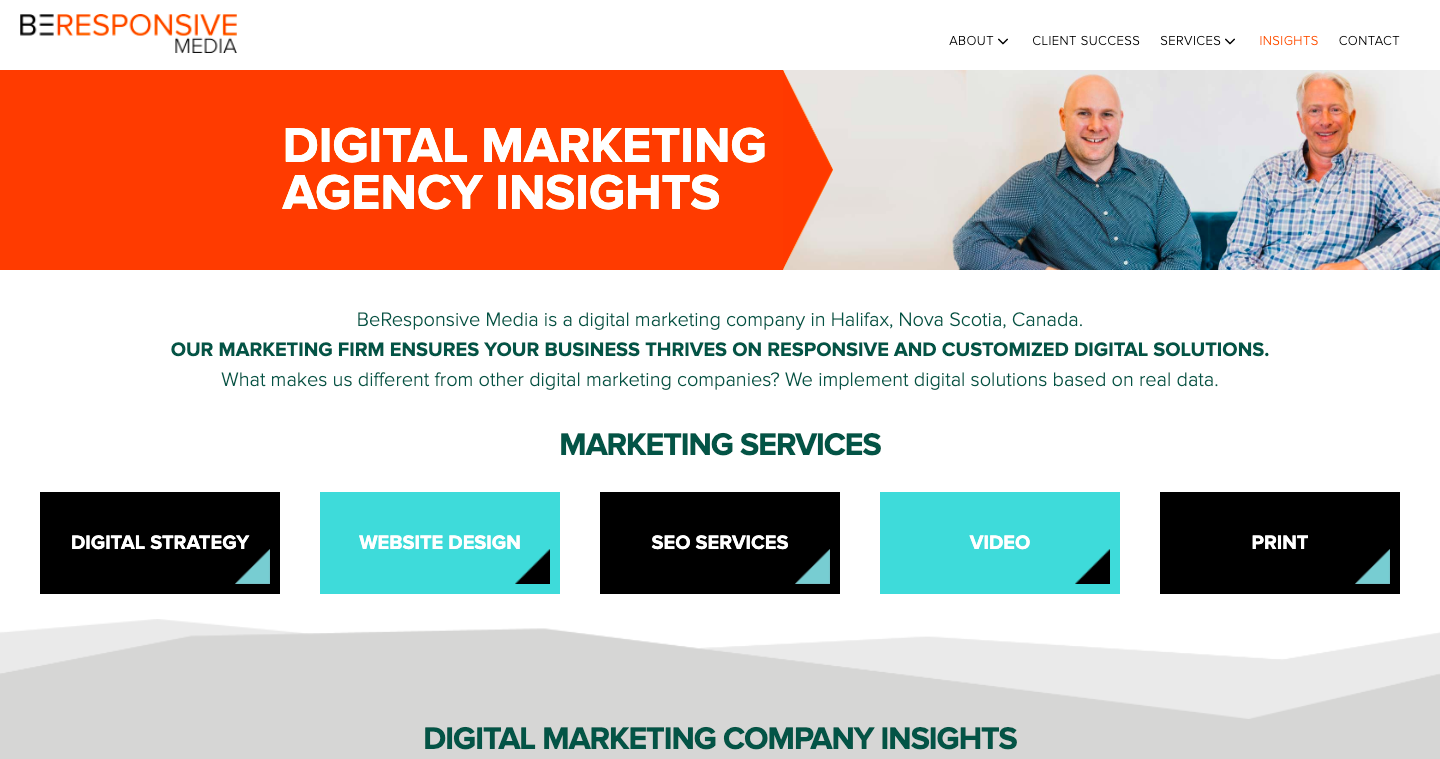 Posts You Might Like:
An MBA graduate (marketing concentration) with over 13 years of marketing experience with global brands such as EDS, HP, SAAB, Hughes Telematics (acquired by Verizon), Mercedes-Benz, and Acuity Brands. Stephen is a passionate holistic marketing professional who believes in solid strategy based on sound marketing research, an inbound marketing approach, and an integrated marketing communications (IMC) plan to amplify an organization's brand strategy.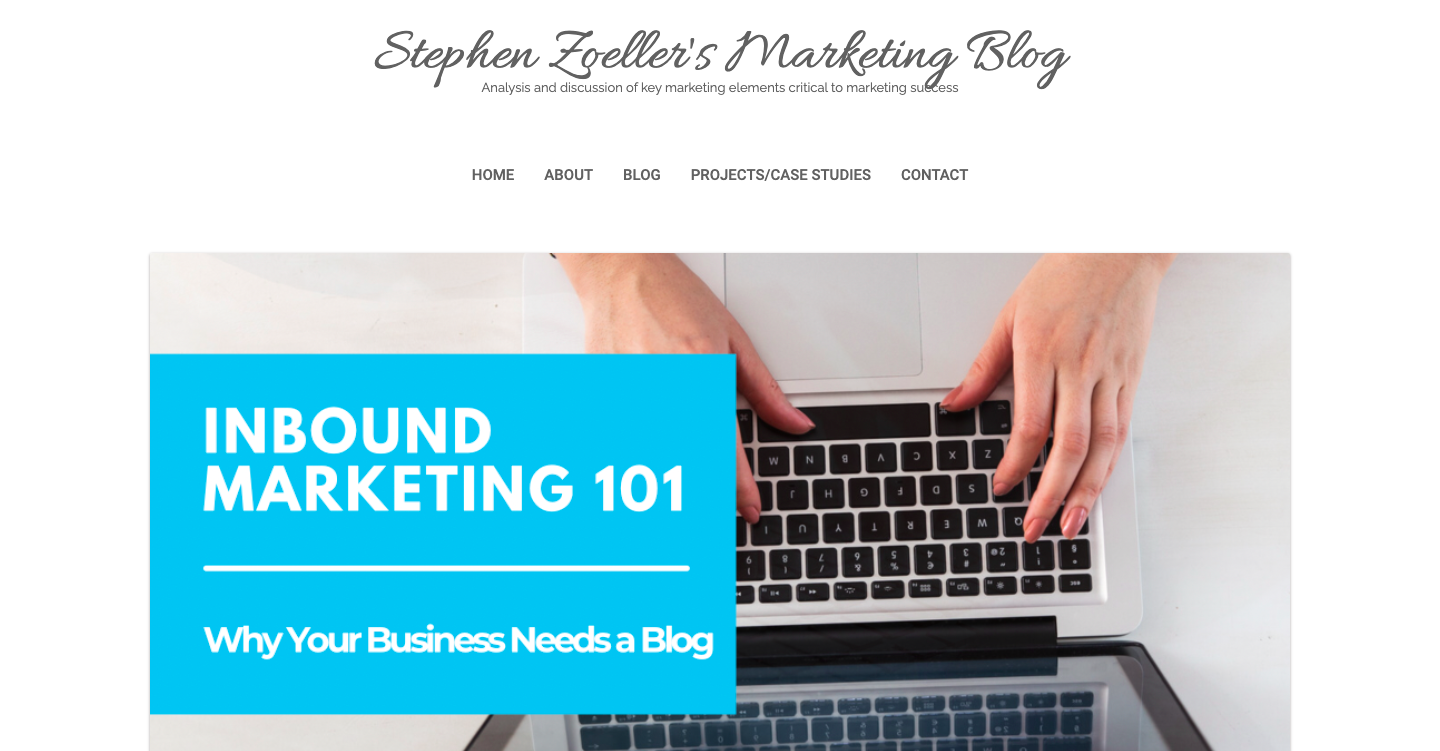 Posts You Might Like:

protocol 80 is a B2B Inbound Marketing & Sales agency. We'll help you reach today's modern buyer and generate quality leads that close.
Posts You Might Like:
Clariant Creative talks about how inbound marketing is the process of building an amazing online presence that speaks to a clearly defined audience. With a great website and strategic content, we encourage these buyers to come to you for answers to their questions – and we proactively guide them through their path to purchase until they inevitably decide to buy from you.
Posts You Might Like:
How did I do? Did I miss any great blogs that you would like on the list? Send me an email at adrienne@goodteam.agency with your recommendations!
Are you an inbound marketer that wants to get the most out of your HubSpot account?
Grab your free ebook on 10 HubSpot Hacks You Probably Didn't Know.
Get Your Free DIY 40-Point HubSpot Audit with Videos!