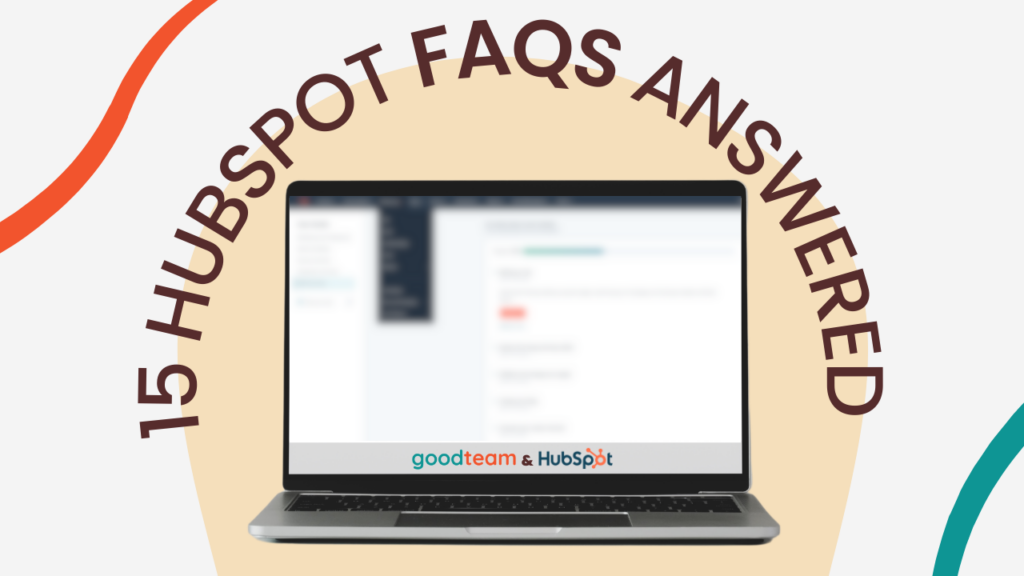 15 HubSpot FAQs Answered
HubSpot is an all-in-one software platform that helps businesses with their sales, marketing, and customer service efforts. And as with any software, there are a lot of questions about how to use it effectively. In this blog post, we will answer some frequently asked questions about HubSpot.
HubSpot FAQ #1:
What is HubSpot?
HubSpot's the leading company in the digital marketing scene, famous for its web content, certification courses, and most importantly, it's CRM software.
HubSpot FAQ #2:
What are the Benefits of Using HubSpot?
There are numerous benefits to using HubSpot. From helping manage customer relationships to streamlining marketing efforts, it can provide a range of advantages for your business. Here are some of the benefits you'll get from using it: 
Streamline sales and marketing processes with automation.

Make the most of customer relationships with a comprehensive CRM platform. 

Create better content and track its performance. 

Generate more leads with targeted campaigns. 

Get real-time insights into your website, traffic, and customers. 
HubSpot FAQ #
3: What is Inbound Marketing?
HubSpot is built around the concept of Inbound Marketing.
Inbound marketing is a strategic approach to marketing that adds value for customers through relevant content, optimized website experiences, and engaging interactions. The goal of inbound marketing is to draw customers in with valuable content that will help them on their journey. 
Unlike outbound or cold marketing which involves pushing content out to people who may or may not need it, inbound marketing focuses on creating meaningful relationships with your prospects and customers by providing them with helpful content. 
For example, instead of sending out a generic email blast, you could create a personalized blog post that answers their specific questions or provides tips on how to solve their problem.
HubSpot FAQ #
4: What are the Different Types of HubSpot Software?
HubSpot offers five different products: Marketing Hub, Sales Hub, Service Hub, Operations Hub, and CMS Hub. 
Marketing Hub is the tool you'll use to create and execute campaigns, optimize your website, and track performance. It includes tools like SEO optimization, A/B testing, lead nurturing, content management, and more. 
Sales Hub helps you close more deals by providing sales reps with the right insights and tools they need to succeed. It includes features like email tracking, lead scoring, and predictive analytics. 
Service Hub is the ticketing system that helps customer service reps track tickets and resolve issues quickly. It also has a knowledge base for customers to find solutions on their own. 
Operations Hub is like the Roomba for your entire Portal. It's designed to work in the background to keep your data clean, with programmable automation you have infinite possibilities through workflows. Ops Hub also has out of the box solutions that will help you fix minor things for a mass amount of objects, like fixing improper capitalization, merging duplicates, and managing potential data mix ups.
Finally, CMS Hub provides you with a powerful content management system you can use to create and manage websites. It includes features like web hosting, drag-and-drop editors, templates, and more. 
HubSpot FAQ #
5: What Features Does HubSpot Offer?
HubSpot is packed with features that will help you grow your business. 
Here's a quick overview of what each product offers: 
Marketing Hub: SEO optimization, A/B testing, lead nurturing, content management and more. 

Sales Hub: Email tracking, lead scoring, predictive analytics and more. 

Service Hub: Ticketing system and a knowledge base for customers to find solutions on their own. 

Operations Hub: Cleaner Data, better reporting.

CMS Hub: Web hosting, drag-and-drop editors, templates and more. 
No matter what your business needs are, HubSpot has the features you need to succeed. From creating content that resonates with customers to tracking performance and generating leads, you'll have all the tools you need in one place. 
HubSpot FAQ #
6: How much does HubSpot cost?
HubSpot offers a range of pricing plans to fit the needs and budgets of different businesses. The pricing starts from $50 per month for the Starter plan, and goes up to $3,200 per month for the Enterprise plan (prices based on current structure, as of 2023). 
There is also a free plan available, but it has limited features.
HubSpot FAQ #
7: What types of businesses can use HubSpot?
HubSpot is designed to be used by businesses of all sizes, from small startups to large enterprises. It is particularly popular among marketing and sales teams, as well as customer service departments.
HubSpot FAQ #
8: How long does it take to set up HubSpot?
The time it takes to set up HubSpot can vary depending on the size and complexity of your business. For smaller businesses with relatively simple needs, it can take just a few hours. For larger businesses with more complex requirements, it may take several days or even weeks.
HubSpot FAQ #
9: Does HubSpot offer training and support?
Yes, HubSpot offers a range of training and support resources to help businesses get the most out of their software.
This includes blog posts and live support from HubSpot experts.
HubSpot FAQ #
10: Can HubSpot integrate with other software platforms?
Yes, HubSpot can integrate with a wide range of other software platforms, including CRM systems, marketing automation tools, and social media management tools. 
This allows businesses to streamline their workflows and improve their overall efficiency.
HubSpot FAQ #
11: How secure is HubSpot?
If you own a business, you know the last thing you want is a data breach. 
And the good news is, HubSpot takes security very seriously. 
To ensure that customer data is protected, they've implemented SSL encryption, two-factor authentication, and regular security audits.
HubSpot FAQ #
12: Can HubSpot be used on mobile devices?
Yes, HubSpot has mobile apps available for iOS and Android devices.
HubSpot FAQ #
13: What is the HubSpot Marketplace?
The HubSpot Marketplace is a directory of third-party tools that extend the capabilities of HubSpot's products. 
These apps are built by partners and enable businesses to customize their workflows and improve efficiency. 
Examples include CRM integrations, marketing automation tools, and analytics applications. 
The Marketplace is an ever-evolving platform, so you'll always find the latest tools to help grow your business.
HubSpot FAQ #
14: How easy is it to transfer data from a previous CRM to HubSpot?
Transferring data from a previous CRM to HubSpot can be straightforward if the right steps are taken. 
First, it's important to export the data from the previous CRM in a format that HubSpot can accept. 
Then, you'll need to map the fields from the previous CRM to those of HubSpot. 
Lastly, you'll need to import the data into HubSpot. 
With the help of HubSpot partner like Good Team, this process can be done easily and quickly.
HubSpot FAQ #
15: What are the benefits of using HubSpot?
HubSpot is designed to make it easy for businesses to attract more customers and grow their revenue. Here are some of the main benefits: 
Streamlined workflows 

Automation of routine tasks 

Increased lead generation 

Improved customer communication and engagement 

Seamless integration with other platforms. 
At the end of the day, HubSpot is a powerful tool that can help businesses reach their goals faster and easier. With its all-in-one platform and wide range of features, it's the perfect choice for businesses of all sizes.
Want to learn more about how to use HubSpot? Great! We'd love to help. 
Get Your Free DIY 40-Point HubSpot Audit with Videos!