Why Should I Run a HubSpot Sales Audit?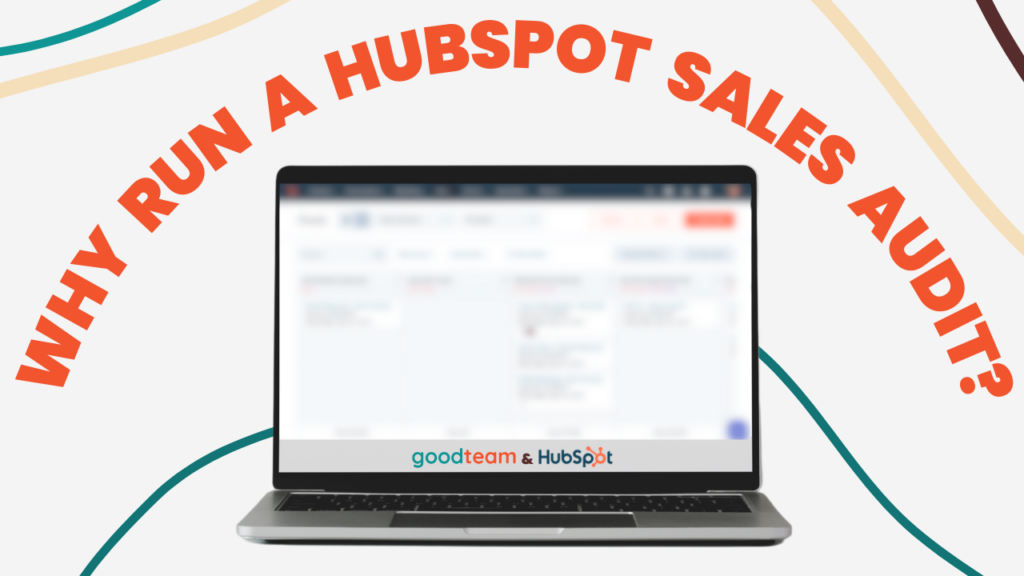 Why Should I Run a HubSpot Sales Audit?
HubSpot sales hub can be overwhelming for any new team member. And when processes fall through the cracks, it's easy to lose track of your company's overall progress.
Enter the HubSpot Sales Audit.
Running a HubSpot Sales Audit is crucial for any business owner or sales manager who wants to improve their sales process and maximize the effectiveness of their current HubSpot sales efforts.
It helps you identify missed opportunities and discover opportunities for growth, allowing you to take proactive steps toward success.
By evaluating and analyzing your sales performance, processes, and strategies, you can improve your overall sales performance. A sales audit can help you achieve these goals.
In this article, you'll learn about what a sales audit is, the benefits of running one, and the steps for implementation.
Ready? 
Let's go!
What is a Sales Audit in HubSpot?
A sales audit is a comprehensive review of your sales data and HubSpot usage to help you optimize your sales performance. 
Which means it can help you identify issues, opportunities, and areas for improvement in your sales process.
It combines performance analysis, data analytics, and a review of sales campaigns to reveal the areas in which your HubSpot sales process could be improved. 
What are the benefits of a HubSpot Sales Audit?
If you're looking to improve your sales performance and want insight into how you can optimize HubSpot for more efficient sales processes, a Sales Audit in HubSpot is the perfect way to get started.
By running a sales audit, you can:
Uncover any trends in your sales process that might be holding you back from achieving success.

Determine if the resources and strategies currently in place are helping or hindering your efforts.

Gain valuable insight into how well your sales team uses HubSpot to benefit and improve their performance.

Develop a more efficient sales process that is better tailored to your business's needs.

Learn best practices from other businesses in the same industry.

Reduce wasted time and effort by streamlining the sales process.

Uncover any potential areas for improvement or growth opportunities.
Overall, a sales audit can help you take a closer look at your entire sales process to identify areas that need improvement, allowing you to make changes and optimize your performance.
And by implementing any necessary changes based on the audit results, you can ensure better success for your business down the line.
What are the Steps to Completing a HubSpot Sales Audit?
Now that you know the benefits, let's look at the steps to complete a sales audit.
Data Analysis
The first step in a sales audit is to analyze your sales data in HubSpot.
You can identify potential gaps in your sales process by reviewing your sales pipeline, closed deals, and sales activity reports. You can also look for trends in the data to determine which sales process stages are working well and which areas need improvement.
For example, if most of your deals are stuck in the prospecting stage, you might need to revise your outreach strategy to make it more effective.
Here's a free download for auditing your account.
HubSpot Usage Review
The next step is to evaluate your use of HubSpot's sales tools. 
Are you leveraging the platform's robust automation features, such as email templates, sequences, and workflows, to save you and your team time? 
Or are you missing out on features that could help to improve your sales process?
Here are all the features you could be using. 
Sales Process Evaluation
Conducting a sales audit can also help you assess your sales team's overall effectiveness in following and executing sales processes. 
A sales audit can provide a clear picture of how well your team is following the sales methodology you have in place and where they might be falling short.
As a result, you can identify ways to improve your sales process and establish more rigorous sales standards for your team.
Here's the ultimate guide to creating a sales process.
Sales Metrics Assessment
Lastly, a sales audit can help you assess your company's overall sales metrics. This includes metrics such as deal conversion rates, deal velocity, and average deal size.
Examining these metrics closely can help you understand what is driving your sales growth and where you might need to focus your efforts in the future.
Here's an in depth article on sales metrics. 
And that's it!
By focusing on the data, HubSpot usage, sales processes, and sales metrics that matter most, you can make strategic decisions that will ultimately result in greater revenue growth and success for your business.
The Good Team Agency is Here to Help
Do you need help managing your lead generation strategy to meet your sales goals in HubSpot?
Our dedicated team of experts works hard to create a growth marketing strategy that works for you. Reach out to us today and schedule a 7-minute call to discuss your current marketing strategy and where it can improve.
Our growth marketing strategy includes several benefits for growing companies and teams. To name just a few:
HubSpot CRM Setup – We can help you set up HubSpot CRM for your team as well as create custom sales processes to meet the needs of your business. We'll also make sure that everyone on your team is familiar with using the platform and understands how to use it effectively for better results.
Campaign Planning and Management – When it comes to marketing, planning is key. Our team can help you create well-rounded campaigns from the start and then manage them properly throughout their lifecycle for better success.
Frequent Meetings – To keep you up-to-date on the progress of your campaigns and ensure that all goals are being met, we offer bi-weekly meetings to discuss any changes or issues with your marketing strategy.
In-depth Reports – Our team can provide comprehensive and accurate reports to help you track your progress and identify areas of improvement.
Sales and Marketing Alignment – Working together, our team can help align your sales and marketing teams to ensure that the right message is being sent out to potential customers.
Schedule a free call for more information on how we can help you create and CRUSH your sales goals in HubSpot! 
Get Your Free DIY 40-Point HubSpot Audit with Videos!