HubSpot CMS Hub: Your One-Stop-Shop for Website Management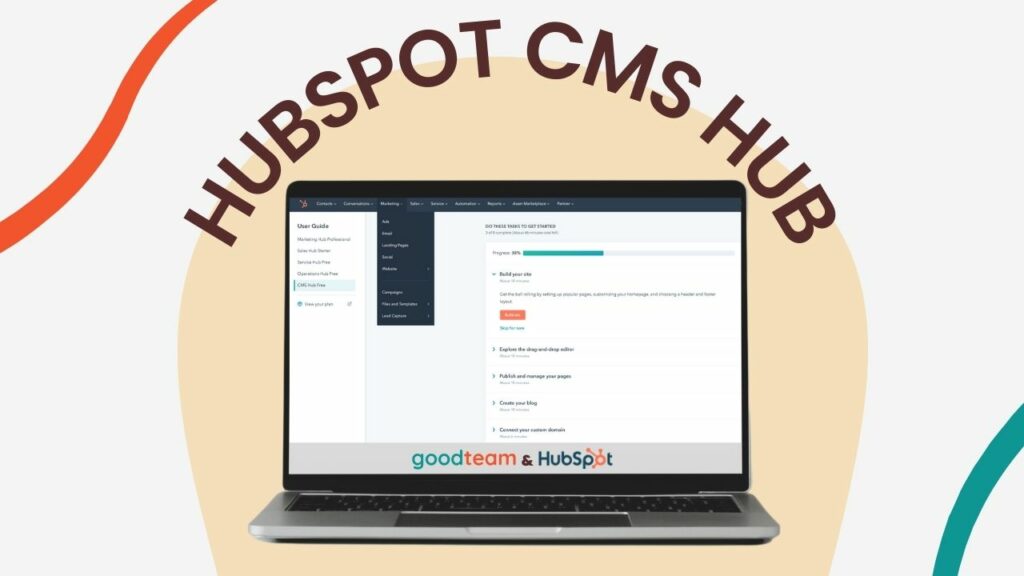 In today's digital age, a website is essential for any business that wants to remain relevant and competitive. But managing a website can be daunting, especially for small businesses with limited resources. Are you looking for a comprehensive, all-in-one solution for website management? If so, you need the HubSpot CMS Hub. 
This blog post will give you an overview of everything the HubSpot CMS Hub has to offer, from content creation and SEO optimization to lead capture and marketing automation. By the end of this post, you'll know whether the HubSpot CMS Hub is right for your business.
What is the HubSpot CMS Hub?
When it comes to managing websites and digital marketing, many people are turning to the HubSpot CMS Hub—and for a good reason. 
The platform offers a range of attractive features that can make website management a breeze. 
With the built-in content creation tools, you can easily add pages, posts, and other content pieces. 
And helpful SEO guides will help ensure your website is optimized to be more visible online. 
Meanwhile, lead capture forms and integrated automation workflows make it easier than ever to streamline your marketing processes. 
Best of all, the HubSpot CMS Hub has all of these features in one place and seamlessly integrates with other powerful features of HubSpot's platform so you can get the most out of your investment. 
In short: if you're looking for an easy-to-use yet powerful website management solution, you should definitely check out what the HubSpot CMS Hub could do for you!
HubSpot Integration
One of the best things about HubSpot is that the CMS Hub integrates with all of HubSpot's other marketing tools. 
This means that you can manage your entire online presence from one central location. 
By taking advantage of this feature, you'll reap the benefits of the following: 
Improved efficiency: Now that everything is in one place, you'll be able to work more quickly and efficiently. No more wasted time jumping between different software programs! 

Increased ROI: With improved efficiency comes increased ROI. By streamlining your marketing efforts, you'll be able to get more done in less time – freeing up valuable resources that can be better used elsewhere in your business. 

Better decision-making: Having all your data in one place makes it easier to track progress and measure results. This will give you the insights you need to make better decisions about your marketing strategy going forward. 

Enhanced customer experience: When everything is integrated, it's easier for customers to move seamlessly between different channels (e.g., from your website to your email campaigns). This provides a better overall experience for customers, which can lead to improved loyalty and higher conversion rates.

Hosting and Security
In today's world, it's more important than ever to keep your website secure. 
As a small business owner, it's important to keep your website up and running smoothly. Not only do you need to worry about hosting and storage, but you also need to make sure your site is secure from potential attacks. That's where CMS Hub comes in.
CMS Hub comes with everything you need to keep your website safe.
From dedicated hosting and unlimited storage to automatic scalability and nightly backups, you can rest assured knowing that your website is in good hands. 
Plus, with built-in security features like SSL certificates and DDoS protection, you can rest easy knowing that your site is safe from potential attacks. 
Flexible Website Templates & Themes
It's tough to know where to start when building a website. It can be confusing, daunting, and overwhelming, especially if you're starting from scratch.
But with CMS Hub, there's no need to start from scratch when creating your website. Choose from a variety of customizable templates and themes that are designed to meet the specific needs of your business.
Content Creation and Publishing
Content creation is the backbone of any successful digital marketing strategy. 
For savvy business owners and marketers, HubSpot's CMS Hub is a must-have tool to help you maximize your content creation efforts. 
From creating content in drag-and-drop editors to optimizing it for SEO and even running keyword research—it's all within reach with HubSpot. 
That way, you can quickly create, publish, and manage blog posts, website pages, landing pages, and email newsletters. 
Plus, everything you create will be mobile-friendly and optimized for whatever device your customer views it on. 
Since coding isn't necessary, you'll be able to easily personalize the customer experience while providing robust tracking capabilities to measure performance metrics and make data-driven decisions about customer engagement. 
With HubSpot's CMS Hub on your side, you'll be able to create a powerful content creation strategy with minimal effort!
Lead Capture and Marketing Automation 
When it comes to online marketing, many business owners make the mistake of assuming that content creation is all they need. 
Sure, creating valuable content for your website can be a great way to attract visitors and convert potential customers, but there's more to it than that. Lead capture and marketing automation are essential parts of any online marketing strategy, after all. 
Fortunately, HubSpot's CMS Hub platform makes it incredibly easy to implement these capabilities into your site with no additional coding required. From forms and pop-ups to help you collect leads more effectively to lead nurturing workflows designed to maximize conversions over time – everything you need is right at your fingertips. 
All of this power means that the only thing you have to worry about is selecting which features are right for your business – because once you've done that, CMS Hub will take care of everything else automatically!
The HubSpot CMS Hub is a powerful platform that offers everything you need to build and grow your website—all in one place. If you're looking for an easy way to create high-quality content and attract more traffic (without having to write a single line of code), the HubSpot CMS Hub is definitely worth considering. And if you want to take things a step further by capturing leads on your website and automating your marketing processes—the Platform has you covered there too!  
So what are you waiting for? Use this ROI Calculator to see if CMS Hub is worth it for your business!
Get Your Free DIY 40-Point HubSpot Audit with Videos!