How to use SEO tool in HubSpot to find search volume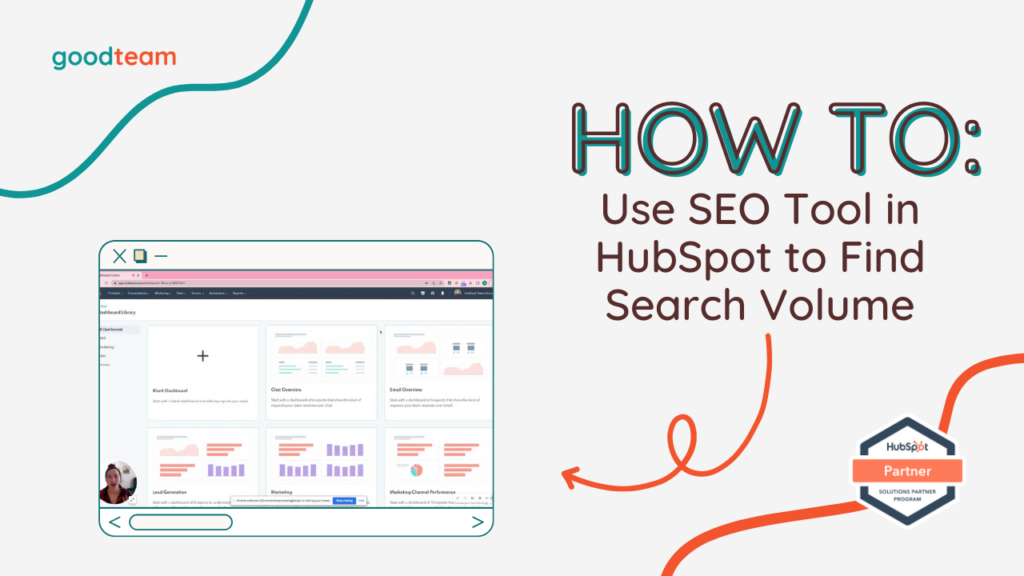 How to use SEO tool in HubSpot to find search volume
Here are the steps to use SEO tool in HubSpot to find search volume:
Go to Marketing
Website
SEO
Research topic
Add topic
Add subtopic keyword
 That's it! Now you know how to use SEO tool in HubSpot to find search volume!
What is Good Team?
Good Team is a HubSpot Partner Agency, as a Certified Solutions Partner with HubSpot we are committed to helping companies grow better. We do that in many ways: Management, Projects, Support, or Resources.
Fill out the form below to access our 40-point DIY HubSpot Audit with Videos!
 Aren't able to watch use SEO tool in HubSpot to find search volume? Read the Captions here:
Hey, I'm Adrienne
with good team,
and I'm going to
walk you through how
to use the SEO tool in HubSpot
for keyword research and search
volume.
So why would you
want to use the SEO
tool in HubSpot versus
something like rush or moss?
So let's say that you are
a business owner that's
super busy, or if you're a
marketer that's just getting
into marketing, you have
a lot of time to learn,
a lot of tools or a
lot of money that you
want to spend on a
variety of marketing
tools, so why not use
what you already have?
Basically so with Hubspot,
they have SEO tools
to help with improving your
site as well as search volume.
So today I'm going to walk
you through search volume.
So first, you're going
to go to marketing.
And then go down
to website and see.
So this is that
tool I was talking
about with recommendations.
You can plug-in
your URL here and it
will give you recommendations
to improve your site.
But for today, we're just
going to go into your topics.
So HubSpot works with the
topic cluster framework.
That means that they encourage
you to have a pillar page.
That's kind of a broader
topic and then create
subtopics from there.
So everything is kind
of linked together.
So for research
topics, we're going
to research our pillar page.
I'm a good one to be
2 to 4 words long,
so something like inbound
marketing or inbound sales.
So for us, we're just going
to say inbound marketing.
OK so this is our pillar page.
It's in the center
of everything.
So in order to find keyword
search volume or other subtopic
ideas, we're going to hit
Add subtopic keyword here.
So we can see the
inbound marketing.
We can see how much
search volume that gets.
A problem here.
This is monthly.
And it gives you a couple more
ideas for different keywords
related to inbound marketing.
You can research.
So do you have growth marketing
or something else in mind?
You know, same thing.
And I'll give you
the search volume
and then also give you
keywords similar to that.
So that's kind of
the start of how
to use the SEO tool
for content strategy
and then also how to find
search volume within HubSpot.
So if you have any
questions, let me know.
You can leave a
comment down below
or you can get in contact
with me at good team.
All right.
Thank you.
Get Your Free DIY 40-Point HubSpot Audit with Videos!