HubSpot Operations Hub: 4 Incredible Tools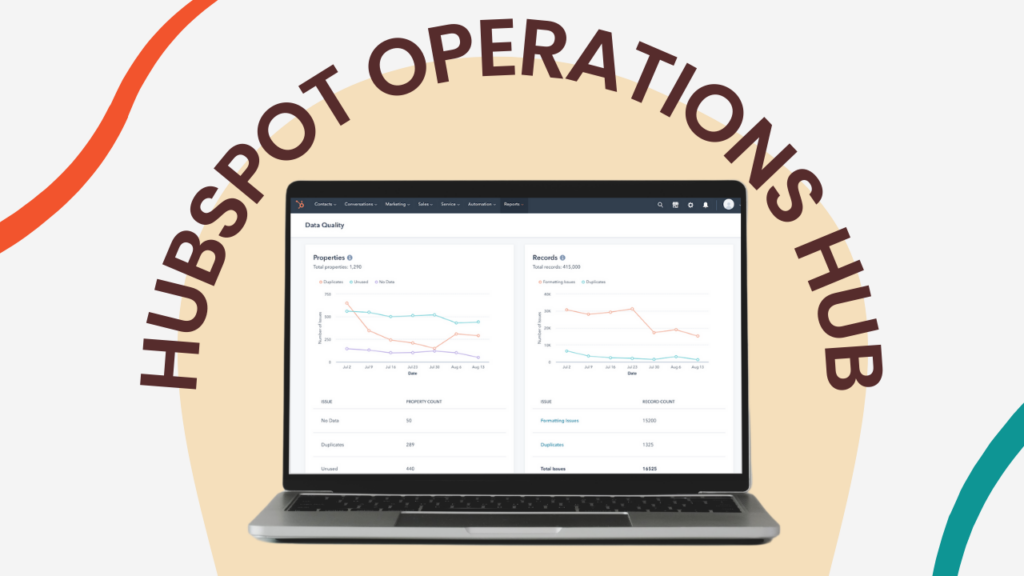 HubSpot Operations Hub: 4 Incredible Tools
There's a lot to manage when you're running a business. But with HubSpot Operations Hub, you can streamline many of your processes and get a better overview of your operations. This blog post will discuss this tool's powerful features and why you can't live without it. 
From project management to two-way data sync, HubSpot Operations Hub can help you save time and run your business more efficiently. 
Streamlining processes, optimizing data performance, empowering employees and creating exceptional customer experiences, Operations Hub keeps your HubSpot (and business) running smoothly. 
It provides actionable tools that support data-driven decision-making, programmable automation, and more so you can keep up with the competition while managing even the most complex operations. 
How to make the most out of HubSpot Operations Hub
Utilizing HubSpot Operations Hub to its fullest extent makes the user's job easier, whatever the task may be. 
Here are four incredible tools that will help you make the most out of this powerful platform:
1. Unify Your Data with Data Sync: Streamline, Simplify, and Synchronize.
Today, technology has become integral to virtually every aspect of our lives. Data sync capabilities have made managing access to and keeping track of that data more streamlined than ever. 
Through efficient data sync processes, users can get control of their information with a single source of truth that they can access and update quickly while ensuring all parties have access to the same most up-to-date copy of the data. 
No more confusion or conflicting information due to using multiple systems- just a unified view into an organization's data for limitless possibilities in advancing its mission forward. Data sync truly is the future for keeping all stakeholders on the same page.
2. Unleash the Power of Programmable Automation: Maximize Efficiency in Your Business Processes.
Transform your business operations with the power of programmable automation. 
With the ability to automate mundane and repetitive tasks, you can optimize your workflow and free up time for more innovative endeavors. 
Automated technologies are reliable, efficient, and versatile – they can be programmed to monitor your data in support of key performance indicators, streamline document management across departments, or allow you to transfer files quickly and securely over long distances. 
I could talk for days on different ways to incorporate Programmable Automation, but it would probably be a better use of your time to check out HubSpot's use case section on this feature of Operations Hub.
By having the right automated processes in place, you can ensure that every department is running smoothly while minimizing financial risk. 

3. Automate Data Quality to Guarantee Precision and Accuracy.
Data management is an integral part of running any successful business. Without accurate and reliable data, informed decisions cannot be made. 
Data quality automation helps bridge the gap between data and the decisions that need to be made. It allows businesses to ensure that their data is always up-to-date so reports are accurate, team members are aligned, and handoffs are smooth.
For example, data duplication is a constant obstacle to overcome. But with this tool, companies can get rid of duplicate data with just a few clicks of the mouse. 
By taking proactive steps towards ensuring data accuracy, companies can keep pace with the ever-changing information landscape and protect their interests in every facet of their operations.
4. Unlock the True Power of Your Data with Datasets.
Making the best use of data can seem complicated, but it doesn't have to be. The most important thing to keep in mind is that datasets are invaluable assets if they are properly managed, transforming the way businesses work and giving them the opportunity to gain valuable insight into customers and market trends. 
Working with datasets allows us to uncover hidden relationships, build predictive models, segment markets, and even compare and contrast variables. By taking a deep dive into datasets and analyzing them strategically, we can unlock powerful opportunities that can revolutionize how businesses operate – leading to better products, more targeted marketing decisions, and improved customer experiences. 
There are two types of datasets:
Connected – An active set of data that comes from HubSpot. 

Uploaded – A static set of data that comes from an uploaded document. 
Both types of datasets are created to make the marketing and sales team come together to improve leads and a robust pipeline. 
Why you need HubSpot Operations Hub
Many people don't think of operations when it comes to making their business successful, but it plays a key role. 
With HubSpot Operations Hub, you can streamline and automate your core operations tasks so that you can have more time to focus on the things that matter most. From creating workflows for employees to integrating data between multiple systems, Operations Hub unlocks ultimate efficiency and lays the foundation for incredible progress. 
Get your operations back in shape with the help of HubSpot Operations Hub – because it's never too late to take control of your business!
As you can see, HubSpot Operations Hub is an incredibly powerful tool that can help streamline your workflow and boost your productivity. If you're not already using it, now is the time to get on board and see what all the fuss is about. Trust us – you won't regret it!
If you liked this article, here are a few others you might enjoy!
Use this ROI Calculator to see if Operations Hub is worth it for your business!
Get Your Free DIY 40-Point HubSpot Audit with Videos!