How to create a HubSpot chatbot for your sales team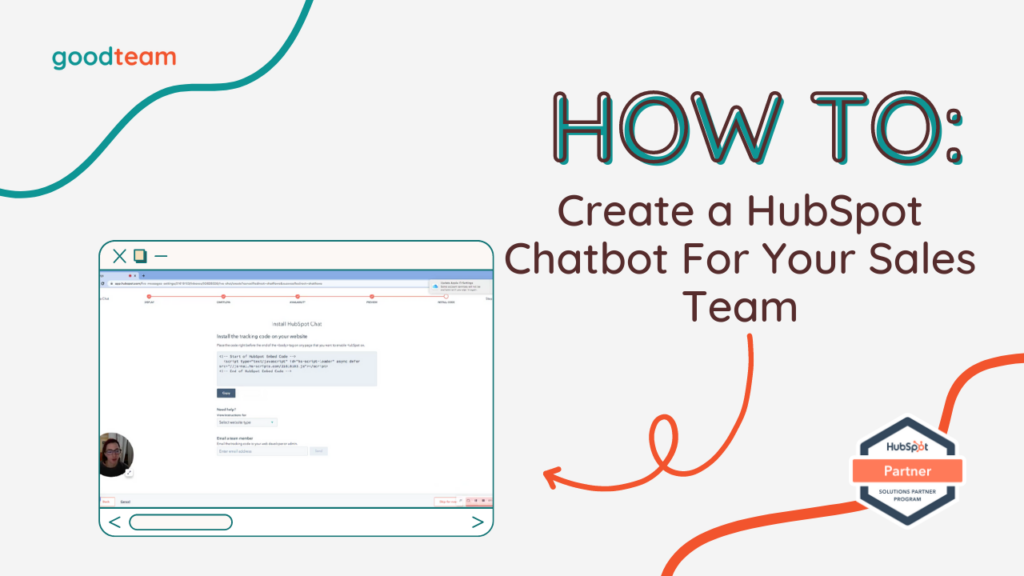 How to create a HubSpot chatbot for your sales team
Here are the steps to create a HubSpot chatbot for your sales team
Go to conversations

Chatflows

Create a chatflow

Set Up Chat
Chat availability
Preview
Install HubSpot Chat
 That's it! Now you know how to create a HubSpot chatbot for your sales team
What is Good Team?
Good Team is a HubSpot Partner Agency, as a Certified Solutions Partner with HubSpot we are committed to helping companies grow better. We do that in many ways: Management, Projects, Support, or Resources.
Fill out the form below to access our 40-point DIY HubSpot Audit with Videos!
 Aren't able to watch create a HubSpot chatbot for your sales team? Read the Captions here:
Hey, Adrian from good team.
I'm going to show you
a quick tutorial on how
to set up your chat
bot for your sales team
so you should be
on your dashboard.
Yours will probably look
different than mine,
but that's fine.
Go to conversations here.
Chat flows.
Then the orange box
create chat flow
so you can either
connect your Facebook
Messenger or your website.
So we're going to do
website setup chat.
The first step is to make
sure that the chat box is
within your branding, so
make sure that you have
the same colors as your brand.
You can do that here.
Just add in your numbers for the
color that goes to your website
and then click Next and create
your French chat clothes.
So specific users and teams.
So here you can.
Make sure that it's
only for your sales team
or you can create a
custom name and avatar
if it's just as a lone
ranger, or you can create it
as a contact owner.
So here is just going
to be me with my face.
And then you can do a
custom message here,
and then you can automatically
assign conversations
within your sales team.
Here you can choose
your availability.
So it only is through
Monday through Friday
or you can choose this
chat is available 24/7.
If that's your
business model, you
can also choose an open message
or outside working message
and it gives you a preview
between the desktop,
tablet and mobile.
And then a code to
install for your website.
So all you do is copy this and
then add it to your website
and that's it.
I hope that helped.
Thanks
Get Your Free DIY 40-Point HubSpot Audit with Videos!