How to Create Emails in HubSpot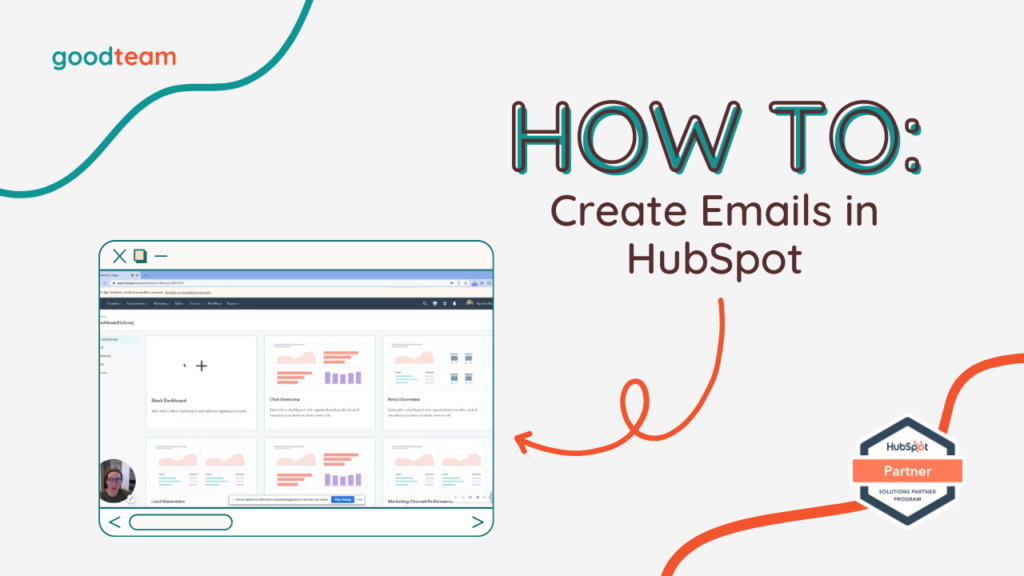 How to Create Emails in HubSpot
Here are the steps to Create Emails in HubSpot:
How to create, edit an email
Settings on email
Send an email or schedule it
 That's it! Now you know how to Create Emails in HubSpot!
What is Good Team?
Good Team is a HubSpot Partner Agency, as a Certified Solutions Partner with HubSpot we are committed to helping companies grow better. We do that in many ways: Management, Projects, Support, or Resources.
Fill out the form below to access our 40-point DIY HubSpot Audit with Videos!
 Aren't able to watch Create Emails in HubSpot? Read the Captions here:
It's a dream from good team.
So today we're
going to learn how
to create an email in HubSpot.
So we're in HubSpot and
this is my dashboard.
Yours probably looks a lot
different, and that's OK.
So the first step is
to go to marketing.
Grant's email.
And then if you're
brand new, want
to create a brand new email, go
up to the orange, create email.
So we have a couple
of options here.
We can create regular
automated or blog
with a blog or RSS email.
You can publish your content.
Once you send updates to your
email subscribers automated,
you can create a workflow
and use the email
within your automation
and then regular.
If you just want to create
a one time email to go out,
maybe you have an
announcement or something
that you just want to do,
like one email or something
like that.
So today we're going to
create just a regular email.
So within HubSpot there's
quite a few different templates
that you can use, maybe like
a welcome sample promotion.
They even have these
really cool ones
where you can add
images, videos and make
them super customizable.
So let's try this one.
It's called an
announcement email.
So everything in here
is really customizable
if you've ever built a
landing page or a website.
This should be really
familiar to you.
You can drag and drop
images within the page,
select your image, browse
you can browse stocks here
or upload from Canva.
Or if there's
something you decide
you don't want to do
to set this trash.
I can undo things here.
There's just a lot you can
do within the actual email,
just basically like
creating a landing page.
And you can change the text
just by clicking on it.
So yeah, this would
be like a promotion.
Or maybe you are changing
locations for your business
or something like
that and you want
to just send out a mass email.
You can customize the
button that you choose.
If you want to send some people
to maybe a different maybe
you are changing locations
or have a promotion.
And then when you
click this button,
you send them to
somewhere on your page.
So you click the
button and the pencil
and then link the URL here.
Again, it's very customizable.
You can change the
colors, the quarter
radius, it gets
center, left, right.
It's just a lot of
stuff that you could
do to make it really your own.
And then here's
the design options.
So if you wanted to
change the blue color
in the background or the
White to this yellow one,
use the body color.
So it all looks like one
and then you can reset it.
So the goal is to make
it all look like it
came from you and your brand.
So if you have specific
colors in your website
or specific typography,
you want to change
that to match so
that people, when
they see that your
email, that they know it
comes from you,
that makes sense.
You can change buttons
and dividers here.
So now that you have your
email exactly how you want
it and it looks like you want
to go into Settings so you
can send it.
So here it comes
from me and my email.
Create a subject line
and then preview text.
And then this is for
your internal use.
So you can see the results,
maybe how many people
clicked it or opened.
Right and you know
that it's your.
Products launch email.
You can change your application
and then select a campaign.
So if you had maybe
your product launch
and you had a variety of maybe a
blog post or some of the things
that all revolved around
your product launch,
you would want to
create a campaign
and then you can track
that information here.
So you can create a campaign.
Try to plunge.
You can put your
goal, your audience,
all that kind of stuff.
So it's just a way to track
how your entire campaign is
doing within your reports.
And then if you want to
extend your schedule,
you can choose to
who you send it to.
So if you already
set up in HubSpot
and you have a list of people
that maybe are on your email
list or from some
other promotion, maybe
people who downloaded your
ebooks or something like that,
you can send to
those people and then
you can also choose
to not send to others.
So maybe you are.
Having a discount
code for like 10% off
if you're a new customer.
So you would send
people who are brand new
and then not send to
people who are existing.
So that type of thing.
So pretty cool here.
And then you can also
use it in an automation.
So if somebody clicks on
something on your website,
you can automatically
send this email is like.
Is there any customer you can
send us a welcome email, 10%
or something like that.
And that's kind of
how you create email.
HubSpot Thanks.
Get Your Free DIY 40-Point HubSpot Audit with Videos!