Everything you need to know about Guest Blogging (from a HubSpot Agency)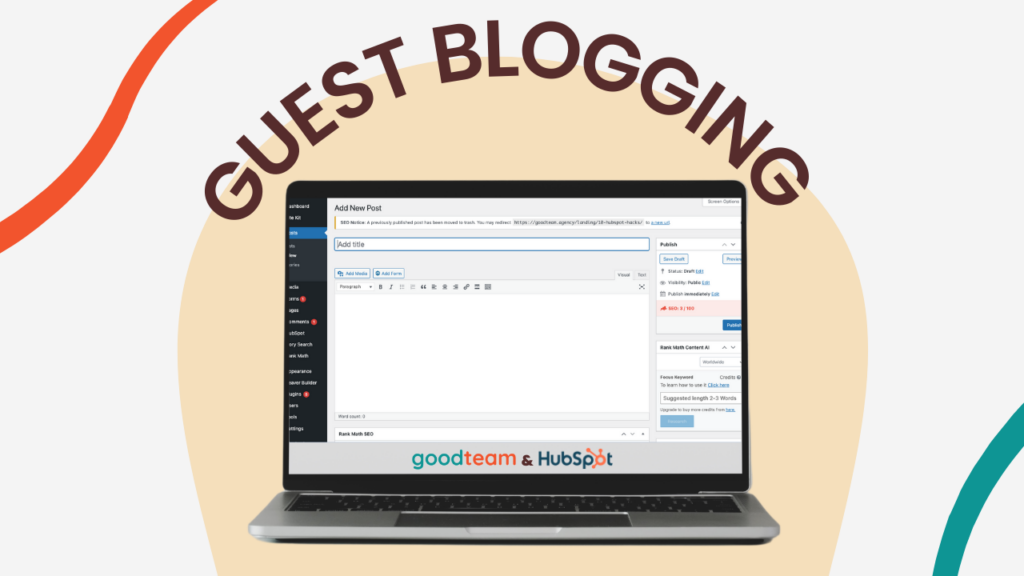 Are you wondering about the effectiveness of guest blogging? You're not alone. Some people will say it's a waste of time, while others will tell you to implement it as an essential part of your marketing efforts.
So, is guest blogging worth it?
Well, yes and no.
As with anything, if you don't put in the necessary time and effort, it can be a waste of resources. But when you do it well, guest blogging is a great way to get your business in front of new audiences, build backlinks, and improve the authority of your website. 
Not sure how guest blogging works or where to start? Keep reading for a complete guide to guest blogging.
What is Guest Blogging?
Guest blogging is when you write a blog post for another website in your industry. In exchange for your article, you typically get to include a link back to your own website.
The goals of guest blogging are twofold:
To increase your visibility

Reach new audiences

Build relationships with other businesses
When you write a guest blog, you're providing valuable content for the other website's readers, and you are also increasing your own visibility. 
This can help you reach new audiences and build relationships with other businesses. 
It's a great way to get your name and website in front of new people. And when done correctly, it can also help you build relationships with other businesses in your industry.
Here are a few things to keep in mind when guest blogging:
Make sure that the website you are guest blogging for is relevant to your business

Write quality content that will be interesting and valuable for the other website's readers

Include a link back to your own website in your bio at the end of the blog post

What are the Benefits of Guest Blogging?
Here are some incredible benefits of guest blogging:
1. It helps you reach new audiences. 
When you guest blog on another website, you expose your business to its entire audience, which can help you attract new customers and grow your business. 
It helps you build relationships. 
Guest blogging is a great way to build relationships with other businesses in your industry. These relationships can be beneficial down the line, whether you need help promoting a new product or are looking for joint venture opportunities.
3. It helps you establish yourself as an expert. 
By guest blogging on high-quality websites, you can establish yourself and your business as an expert in your industry, which can help you attract more customers and grow your business.
4. It helps improve your SEO performance.
Guest blogging can benefit SEO in a few ways. It helps to increase your visibility and reach new audiences and can help to build relationships with other businesses.
Guest blogging has the incredible benefit of creating links that point back to your site. The more links you have to websites with high domain authority in your industry, the better. 
5. It drives more traffic to your website through referrals. 
Let's say you have a friend that's an expert in something. And they tell you about someone they have in their inner circle. 
Wouldn't you be more interested in that person because they are associated with someone you already trust? Guest blogging is kind of like that. 
So, now that you know the benefits, how do you start? 
How to Get Started with Guest Blogging
1. Set attainable goals
The first step to successful guest blogging is to set attainable goals. 
These goals might be for website traffic or visibility (how many people see your website in the search results). 
Here are some examples of measurable goals:
Get x visits from referral sites, or increase by x%.

Get x leads from guest posts or increase leads by x%.

Get x number of clients from guest posts or increase by x%.

Increase your site visibility by x%.

Get x backlinks from your guest posts. 
I like to set goals based on visibility and visitors from referrals. In my experience, these numbers jump quickly after one guest blog post (especially if you post on a site with a lot of traffic).
And not to say that setting goals for backlinks isn't important, it is. But most of the time, it takes time to get backlinks, which can be frustrating when you're working long hours on posts without immediate results. 
2. Choose topics that are relevant to your business.
It's easy to get caught up in wanting more traffic from anywhere and everywhere. But it's important to take a step back and target websites that will give you the most bang for your buck.
For example, as a HubSpot agency, instead of creating blog posts for any topic, I would want to target websites that are already creating content related to inbound marketing, SEO, or HubSpot.
That way, readers would already be looking for similar content and services our agency provides. 
Start by making a list of all the services you provide. What services are your bread and butter? Make a list of ideas related to those services you want to primarily drive traffic. 
What questions do people have that you could answer? 
3. Find guest blogging sites. 
The process of finding guest blogging sites is a little more difficult than it used to be, but not impossible. 
For all the reasons listed above, marketers and business owners are aware of the power of guest blogging, which means that there are a couple more hoops to jump through. 
But I promise it's worth it. 
The time and effort you put into guest blogs means more traffic and, ultimately, more money in the long run. 
How to find guest blogging sites:
Type "intext:submit a guest post" into Google

Type in "top [your niche] websites that accept blog posts" into Google

Check your competitor's backlinks and try to get those
After you've found some sites, make sure you check their domain authority. You can do this by using Moz Bar – a free chrome extension. And anything higher than 30 is worth creating a post. 
Once you've found a few potential websites, reach out to the owner or editor and pitch them an article idea. If they're interested, they'll usually provide you with specific guidelines to follow.
Once you've written your article, all that's left to do is submit it and wait for it to be published.
4. Track your results
This step might be intimidating to newbies but I urge you not to skip it. 
This is how you justify all the hours of work you just did. 
And not to mention, there would be no point in setting goals if you don't track your results right? 
So, depending on your goals, over time you would want to track your website traffic, visibility, or referring domains. 
If you're new to SEO, check out this guide. It walks you through tools like Google Search Console, Google Analytics, HubSpot, and SEMRush. 
And that's it! 
Now you understand the power of guest blogging and how it can help grow your business!
Want to get the most out of your HubSpot account? Grab your free ebook on 10 HubSpot Hacks You Probably Didn't Know.
Get Your Free DIY 40-Point HubSpot Audit with Videos!